Lukashenka Takes Nazarbayev's Resign With 'Great Regret'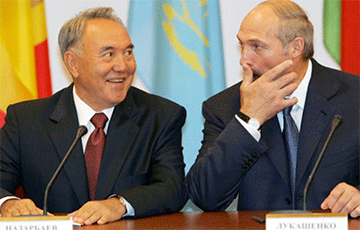 The Belarusian dictator called the Kazakh ruler on the phone.
A phone conversation between Aliaksandr Lukashenka and Nursultan Nazarbayev, who announced his recognition today, has taken place on March 19.
The Belarusian dictator noted that it was with great regret that he heard the news about the resignation of his friend. Aliaksandr Lukashenka emphasized that Nursultan Nazarbayev had been his partner and friend for many years; together they took important decisions in bilateral and multilateral formats, took part in large-scale summits and international forums. The conversation was very cordial, BelTA states.
Nazarbayev announced his recognition live on air during the meeting dedicated to the development of the country. Kassym-Jomart Tokayev, the speaker of the upper house of parliament, took over as the country's acting president.