Belarusian Makes Movie About Mothers 328 Movement
5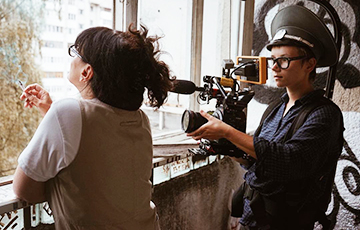 As practice shows, in our country they don't like washing dirty linen in public … in cinemas.
Belarusian Nina Nikanava made a short-lenth documentary movie about the public movement Mothers 328. Kyky.org is telling why Nina got down to such a complicated project in the first place.
Who is Nina Nikanava
A girl from Minsk, who lives with the ADHS. Nina is travelling around the globe all the time, makes movies, thus using her hyper-activity at the utmost. She does all this because otherwise she would suffer from boredom and attention deficiency. "This is another manifestation of the ADHS – I am always bored. That is why I try to do something new every day. It's like I'm addicted to novelty and it's hard for me to stay at the same place. Today I'm in Brooklyn, tomorrow I'm in Berlin, and the day after tomorrow I am off to Bali."
Nina has graduated from the Cinema Academy in New York recently. In fact, she started making a documentary short-length movie about Belarus as her diploma project. Nina said she took interest to the topic about a year ago, when she saw a live stream from the meeting of the state officials with the mothers whose children were in prison over the "anti-drug" article 328. "After this stream, I started my research about them and the problem in general. I found out that a third of convicts are there under this article. And that 90% of them just shouldn't be there, as the head of the prison told me, for the movie. Later I met the woman who founded the Mothers 328 movement. In spring, I flew from America to meet her. She agreed to participate in the shootings of my documentary movie. Later, other women appeared, there were more than a hundred of them, their children also agreed to take part in the shootings," Nina says.
Nina has done the whole project by herself: conducted proper research, wrote the script. She even recorded and mounted the sound by herself. The movie is almost ready. When Nina completes the work, she will go to world movie festivals with her documentary.
It remains unclear whether the documentary about the Mothers 328 will ever appear in Belarus itself. As practice shows, in our country they don't like washing dirty linen in public … in cinemas.
Important to note, the public movement Mothers 328 appeared in Belarus in April last year. In the Kalinkavichy and Pukhavichy districts, ten people, relatives of the convicts under the "drug article", declared a hunger-strike. They had three basic demands: to meet with the president, to set up the commission which would deal with the reconsideration of the cases related to the Article 328 and thus to achieve mitigation of punishment under the said article. The women terminated their hunger-strike on May 11 (it started on April 28).