Leanid Sudalenka: Officials Fear Those Who Go To Mat
13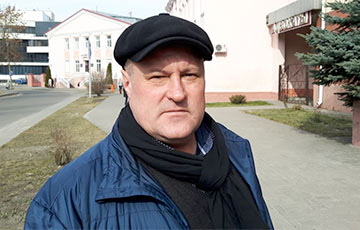 The "parasites" pay a number of indirect taxes every day.
The lawyer of the REP Trade Union, Leanid Sudalenka, told Radio Racyja about how Homel woman Maryja Tarasenka became the first "parasite" in Belarus, who filed a lawsuit against the officials. She learned that she was included in the list of "not employed in the economy" from the workers of the housing and utilities department in January of this year.
The woman believes that she buys goods every day, uses some services, and, accordingly, pays a number of indirect taxes. Thus, she is engaged in the economy.
Not so long ago, Maryja Tarasenka received an official letter from the "parasite" commission under the administration of the Chyhunachny district of Homel, in which it was reported that she delisted from the list of people "not employed in the economy".
Leanid Sudalenka says:
– When Maryja was added to the list of "parasites," she sued the officials from the commission in order to recognize their actions as illegal, and to exclude her from the "black" list. The court then refused to consider the claim at all, since it is not its competence. They said that since the decree on "parasites" does not contain an appeal procedure, Maryja Tarasenka did not have the right to appeal.
But here we must understand that the Constitution gives the right to appeal against any actions of state officials. And if the Belarusian ruler does not provide for such a right in a decree, then in this case, it is necessary to be guided by the Basic Law. For the court, Lukashenka's decree is the Bible, which is not discussed. And we say that the decree is no Bible, it contradicts the norms of the Constitution.
– Now Maryja Tarasenka is already excluded from the list of "parasites"...
– Maryja went to court with a claim for compensation for non-pecuniary damage, and this time it was accepted for consideration. And at the same time, she was excluded from the list of those "not employed in the economy." In this way, they want to make the woman stop her battle. Officials fear those who go to the mat.
But we will continue to fight, because today it's not just Maryja Tarasenka's case. The authorities said that now there are about 500 thousand "parasites" in the country. Then, there was another figure – 425 thousand. Where are these people? Apparently, they are afraid to make claims to absolutely all the people who do not work for this or that reason. They are afraid of escalating the situation, since if half a million people who have and do not own housing, received rent bills with the new tariffs, then I think the people would give their loud voice. But in this situation it is necessary to demand the complete abolition of the decree.