It's Still Explosive
33
Iryna Khalip
12.04.2019, 8:41

25,938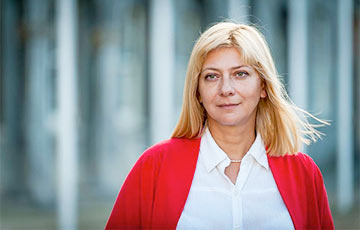 A lot of tough questions are unanswered.
- Who do you think undermined the subway? a KGB officer r asked me.
- I think it was mining gang of Vitsek.
- By the way, many people think so in our committee.
This short dialogue took place in my kitchen on 12 April, 2011. By that time I was under house arrest for the third month, my husband stayed in the KGB jail, as well as many activists of European Belarus, and the editor of Charter'97 Natallia Radzina was wanted for ten days already, having mysteriously disappeared on the way to interrogation. For the third month I was under supervision of KGB officers, who changed once a day. I had neither access to the Internet, nor the right to telephone conversations, so I did not know the news. The TV was no longer considered a source of information, and the cartoon channel for my son Daniel was constantly on.
In the evening before that kitchen dialogue, KGB officers got worried all of a sudden. Their phones were ringing, they talked to someone and whispered with each other. I confess there was a leap of hope: what if something happened to Lukashenka. Why should they be so nervous then? Then they asked me to switch on BT TV channel. My "BT TV channel does not work here even by court order!" was met in a polite way: "Please, turn it on. There's a terrorist attack in the subway".
At the same time, the head of the KGB jail broke into my husband's cell and yelled: "It's all you and your friends! There's blood, the killed, the injured! Is that what you wanted? Another hour had not passed after the explosion, but there was a version. Later, former KGB chairman Zaitseu kept right on "the attack in the subway is revenge for trials of the opposition". It was time when all opened criminal cases were quickly closed and sent to courts. Against the backdrop of the terrorist attack, they hoped to avoid scandalous trials and to send everyone to prisons.
But while the KGB chiefs were discussing revenge for the arrested opposition members, the KGB majors drinking tea in my apartment accepted the opposite version. And their superiors got made in a foolish way. After detention of Kanavalau and Kavaleu the same head of the KGB detention center summoned my husband to boast of a brilliant work of his department. All the terrorists, they say, were detained on that roost, and now they are here. But there was peace and quiet in Amerikanka then: masked goblins, which appeared simultaneously with our arrests and terrorized not only prisoners, but also prison guards, successfully vanished by April.
And here - a terrorist attack, an explosion in the subway, a dozen and a half dead, and dangerous terrorists are in prison without any increased security? Andrei told the head of the pre-trial detention facility: "They are not terrorists, if masked guys haven't returned". Everything was clear. Kanavalau and Kavaleu's zero-hazard was well known to the KGB administration, but they tried to play a short performance especially for political prisoners.
The next day Andrei was again summoned to the head of the pre-trial detention center for some senseless reason. Those prison guards always whistle, informing that a detainee is on the corridor so that no one could see him. All of a sudden, my husband is taken to the corridor without any whistling, and he sees a girl with a masked man walking slowly. This girl might have been Yana Pachytskaya, who was detained with Dzmitry Kanavalau and Uladzislau Kavaleu. Or it might have been another person - a bit player, because a man in a mask was recognized by Andrei as a local prison guard: he had a specific gait, so he could cover his head but he walked in his usual manner. The play was as miserable as the court hearing.
Today, eight years later, I remember these little things - dialogues, remarks, the yelling chief of the KGB detention center, majors in the kitchen, the girl at the end of the prison corridor - because one day it may be useful. For example, for those who will really investigate the case of the explosion in Minsk subway in future. I know that it's not going to happen now; perhaps, only years later. But over the years, a lot more may happen. Because Pandora's box was opened with the direct participation of Interpol: its former head Ronald Noble arrived in Minsk a month after the terrorist attack. He ran through the papers and pointed out professionalism of Belarusian special services. They know how to scribble such papers. Perhaps, this is all they can do. Well, they can also torture and beat confession out. That's all. But it's enough for Belarus to still be explosive.
My colleagues have voiced a lot of tough questions about the subway explosion, as well as questions unanswered. These questions are correct, logical, reasonable and will never be answered by the current regime. I have only one question left: what have you done, you bastards?
Iryna Khalip especially for Charter97.org