New Prayer For Delivering Belarus From Evil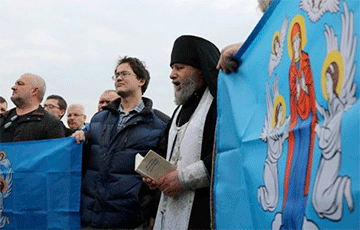 A prayer service in defense of our country and our faith will be held in Minsk on Monday, April 15.
The Narodnaya Hramada party, which is part of the Belarusian National Congress, has delivered an address:
– Lukashenka continues the destruction of the Memorial to the victims of Stalinist repressions in Kurapaty. On the orders of the mad dictator, construction machinery is driving on the graves of the shot Belarusians. More than 150 crosses installed on the graves by the people who cherish their memory have been broken and desecrated.
On the eve of Easter, during Lent, the satanic government declares war to the main symbol of Christianity. The impostor is demonstratively spiting upon the faith and traditions of the Belarusians.
We call upon those who do not want to be tolerant of the insane acts of the tyrant ruler to gather on Monday, April 15, at 18.00 near the Lukashenka administration (Minsk, Karl Marx Street, 38). Together we will pray for the deliverance of our country from the evil and for the health of the defenders of the faith who have been thrown into jail – Mikalai Statkevich, Pavel Seviarynets, Maksim Viniarski.
Come with crosses, candles and icons.
Let's defend our faith.
Glory to Jesus Christ!
Long live Belarus!