Bresters, You Are Heroes!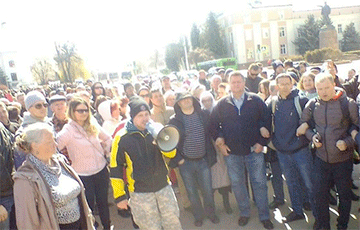 Residents of Brest showed what solidarity is.
Today, the traditional Sunday pigeon-feeding action in Brest has grown into a mass rally and march against the battery plant. More than 500 people took part in the march, that is, the action turned out the most massive since the "parasite" protests of 2017.
Several times the protesters made a chain circle with their hands and fought off their comrades-in-arms, from the police and the riot police officers, who tried to detain them.
"Bresters, you are heroes! The authorities hoped that they would bring down protest by arrests, but they made a mistake. There were a lot more people than before. Residents of Brest have shown that new ones will definitely appear at the place of one detained leader. Very cool!" writes the Telegram channel "Basta!".
On the eve of this weekend in Brest, 10 opponents of the plant construction were detained until the trial and sent to the temporary detention facility, including one of the leaders of the initiative group Dziamyan Lepiasevich and the mother of two children Katsiaryna Basarhina.
According to preliminary information, they were detained for violating the procedure for organizing or holding mass events (Article 23.34 of the Code of Administrative Offenses). Most likely, this refers to the procession along the Savetskaya Street on April 7, during which people chanted slogans against the plant.