Natallia Radzina: Ukrainian Politicians Should Be Ashamed For Shaking Hands With Lukashenka
7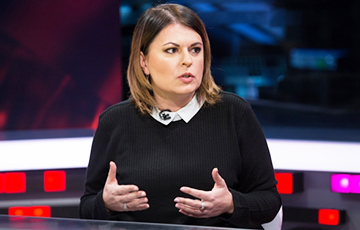 It is necessary to investigate the smuggling schemes of trade between Ukraine and Russia through Belarus.
Natallia Radzina, the editor-in-chief of the Charter97.org website, said that in an interview to the Ukrainian internet edition GORDON.
– We can talk for hours about how the confrontation between Belarus and Russia will end, and still we won't predict anything right. However, we can definitely say it right now: in any case, nothing good awaits Belarus under Lukashenka, even if there is no Anschluss, occupation or absorption by the Russian Federation. Just as nothing good awaits Ukraine, Poland, Lithuania and Latvia, which border Belarus, while Lukashenka is sitting down there. For he is a protege of Russia, a puppet of the Kremlin and will never be different.
– In your opinion, to what extent does the West, especially after the annexation of the Crimea and the war in the Donbas, realize the real threat of the occupation of Belarus by Russian we-will-deny-they-are-there?
– Where was the West in the 1930s, when Hitler occupied Austria and Czechoslovakia? The West's attitude is as always – it is better to steer clear. They start to get involved when everything has already happened, and before that they express "deep concern." I have no illusions about it. The armed invasion of Russia into Ukraine and the subsequent negotiations in Minsk helped Lukashenka to get legitimized in the West: from an outcast and a dictator, he turned into a politician with whom it's possible to shake hands. And, unfortunately, that was due in no small part to Ukrainian politicians, and this is no longer surprising.
– What do you mean?
– President Yushchenko once was a lawyer for dictator Lukashenka in the West. President Poroshenko invited dictator Lukashenka to his inauguration, despite the fact that Belarusian Mikhail Zhyzneuski was among the first to get killed at the Maidan.
Poroshenko or Turchinov visit dictator Lukashenka and ask: "Will you warn us if Putin plans to attack Ukraine from the territory of Belarus?" And Lukashenka answers them: "Certainly, I'll warn you in a day." Well, this is insanity, because Belarus has long been under the control of Russia, and Lukashenka will never separate from the Russian Federation!
In Ukraine, no one systematically covers the situation in Belarus, the Ukrainians literally do not know anything about what is happening here. Do you really want to help us and avert the threat of attack from the territory of Belarus? Encourage your politicians to be more responsible towards Belarus, tell them what is actually happening there. Ukrainian politicians should be ashamed for visiting Belarus and shaking hands with Lukashenka. Journalists should investigate in the first place the smuggling schemes and trade between Ukraine and Russia through Belarus, as well as who of the Ukrainian authorities and oligarchs are actively covering it.
– Are you talking about Russian oil products that are imported to Ukraine under the guise of Belarusian?
– Yes, of course! Lukashenka does not sell them alone, but together with Sechin. It is necessary to investigate who in Ukraine profiteers due to this unofficial trade with the aggressor country. And it will immediately become clear why Ukrainian TV channels do not cover this topic. They are silent because, possibly, the TV channel owners have a business in Belarus tied to Lukashenka.
It is also necessary to support the Belarusian independent media and organize the broadcasting of Ukrainian TV channels and radio stations to the territory of Belarus so that Belarusians learn about events in your country not from the Russian television.