MAZ Doubled Its Losses
18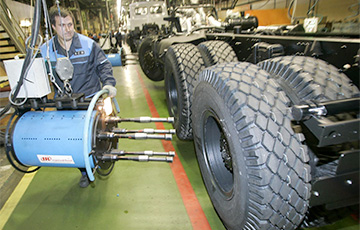 The industrial giant has been loss-making since 2014.
And the flagship of the Belarusian automotive industry, the Minsk Automobile Plant, finished the year 2018 with losses. According to the balance sheet published by the plant, the net loss in 2018 amounted to Br80.4 million, which is 94.2% more than the loss in 2017. The industrial giant has shown a minus since 2014, tut.by reports.
Profit from the current activities amounts to Br6.2 million against Br33.3 million last year. Sales profit amounts to Br31 million against losses of Br4 million in 2017.
As many industrial enterprises, the exchange rate differences - the loss on this position amounted to Br96.4 million - has worsened the results of MAZ.
It will be recalled that the net profit of Belarusian enterprises amounted to Br5.2 billion in 2018 and decreased by 38.9% compared to 2017. The National Bank explained it with exchange rate difference over several years. The write-off of losses due to changes in exchange rates in 2015-2017 was regulated by separate decrees of the president, while in 2018 their effect was over, and companies with negative exchange rate difference had to reflect them.
Large-scale efforts at all levels, including these of the Prosecutor's Office, allowed MAZ to slightly reduce the volume of accounts receivable - short-term accounts receivable decreased by 5.1% to Br329.8 million, long-term accounts receivable - by 10% to Br45.8 million against Br7.6 million at the end of 2016.
At the same time, the company repeatedly called the image of the country, kept adding to its credit burden - short-term accounts payable increased by 52.7% to Br343.2 million, while long-term credits and loans grew by 40% to Br470.7 million.
In 2018, MAZ's sales in Russia's key truck market increased by 9% compared to 2017. According to Avtostat, MAZ sold 4.237 trucks, taking the 7th place in the truck market. In 2018, the Russian new truck market grew by 2.7% to 82,300 units.