Reporters Without Borders: Repressions Against Independent Media In Belarus Have Reached Unprecedented Levels
1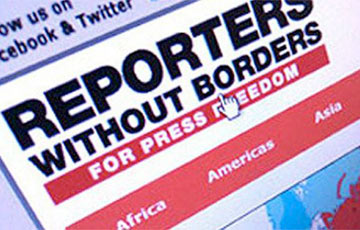 Our country ranked between Brunei and Congo in the Press Freedom Index.
Belarus ranked 153rd in the Press Freedom Index last year, according to the international organization Reporters Without Borders. The number of countries where there are safe working conditions for journalists is decreasing.
"Belarus' position in the World Press Freedom Index - 2019 seems to indicate an improvement, but actually it reflects the fact that the situation has deteriorated significantly in many other countries," – the authors say.
The organization calls situation in Belarus "a dangerous time for independent journalism." They mention the "BelTA case," hundreds of fines being used to punish the correspondents of exiled media outlets, arrests of bloggers, blocking the website Charter97.org, tightening the law on the media.
"Repressions against independent media in Belarus have reached an unprecedented level," – the report says.
Belarus stands next to many Asian and African countries in the ranking. In 2019, Brunei is one line higher than Belarus, while the Democratic Republic of Congo taking 154th place follows Belarus.
As for our neighbors, the situation is much better in Latvia (24th place) and Lithuania (30th), Poland takes 59th place. Ukraine and Russia are in 102 and 149 places, respectively.
On January 24, the Lukashenka regime blocked the independent information resource Charter97.org. The blocking was confirmed by First Deputy Minister of Information Ihar Lutski. The Ministry of Information is headed by Aliaksandr Karliukevich.
It is possible to bypass the block and here are the instructions:
- The easiest way to read Charter'97
- How to bypass the block of the website Charter97.org
- How to bypass the website block on Android and iOS
- Change the DNS on your computer and read the Charter
- Read Charter'97 in the social networks.
Important to note, on September 3 Editor-in-Chief of Charter97.org Natallia Radzina announced the threat to the informational resource caused by the drastic reduction in financing, and called readers for solidarity.