Activists Fined As 'Hooligans' For Protection Of Kurapaty Crosses
8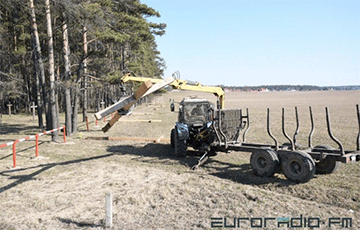 Kurapaty defenders have been tried in Minsk today.
Administrative trials with regard to the activists, who tried to stop the demolition of crosses in the memorial to the victims of Stalinist repression in Kurapaty on April 4, took place in the Minsk district court, Radio Svaboda reports.
The court punished activist Philip Shaurou with a fine for 40 base fees (BYN 1020): he was found guilty of "petty hooliganism" and "disobedience to the police".
Valer Shaurou, who was detained when filming the demolition of the Kurapaty crosses, was fined for 6 base fees (BYN 153).
Mikhail Sabaleuski, who stood for the activists during their detention, was fined by the court for 10 base fees (BYN 255).
The trial of Nina Bahinskaya, who covered the crosses with her body to protect them from demolition, has been postponed till April 26.
Important to note, on April 4, the authorities brought down about 100 crosses that had been installed along the perimeter of the people's memorial in Kurapaty. On April 13, the authorities demolished 50 more crosses.