Journalists Of Independent Media Denied Accreditation For Lukashenka's Message
42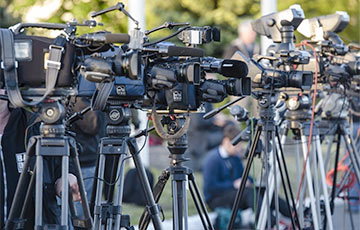 Regional media have been driven to cover the dictator's performance.
The journalists of tut.by, BelaPAN and "European Radio for Belarus" have not been accredited to cover the annual message of Aliaksandr Lukashenka to the "people and national assembly", which will be held on Friday, April 19, baj.by writes.
In particular, the press-center of the House of Representatives denied observer of the BelaPAN news agency Tatsiana Karavenkova, special correspondent of the European Radio for Belarus Zmitser Lukashuk the opportunity to cover the event.
Meanwhile, both journalists have permanent accreditation to work in the "parliament". The accreditation was also denied to the journalists from the tut.by portal.
- We have not very good news for you. You see, so many journalists of the regional press have been driven in that there will be no place for you in the press-center," BelaPAN journalist Tatsiana Karavenkova quotes the press-center of the "house of representatives ".
Lukashenka will speak on April 19 in the Oval Hall.