Lukashenka: Don't Wail About Demolished Crosses
47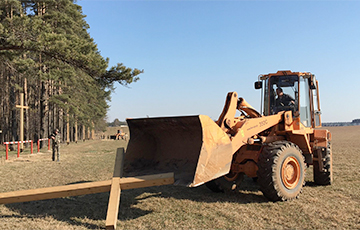 The dictator has insulted the people's memorial in Kurapaty again.
Today the dictator addresses the people and the national assembly with his "annual message."
The Charter97.org website publishes selected excerpts from the dictator's speech.
"The man, his initiative and the desire to live better must become the main driving force for the development of the country in the coming years. You must be active yourself. And not just wail about the demolished crosses. Don't you have greater problems? First, you should check into the matter, who has installed these crosses and who allowed them to do it. But that is another issue," – Lukashenka said.
We remind that on April 4, the authorities destroyed about 100 crosses that had been installed along the perimeter of the national memorial in Kurapaty, and on April 13, another 50.