Lukashenka Banned Billboard Where "Stick To Speed Limits" Is Written In Belarusian
52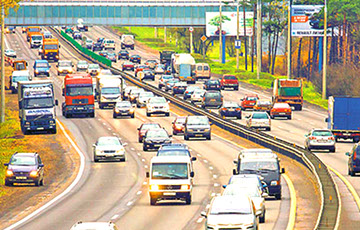 For the Russian people will misunderstand it.
Today the dictator addresses the people and the national assembly with his "annual message."
The Charter97.org website publishes selected excerpts from the dictator's speech.
"It's like in languages. I've noticed: we are on a language riff again, – Lukashenka said. – I've asked you, do not raise this question at all! It is closed in Belarus! We have two state languages – Russian and Belarusian. Not Ukrainian, not Russia's – Russian! Russian, in which we have put our hearts! People were dying! We were fighting together with the Russian people. This is our common heritage. If someone wants to lose his mind, he will lose the Russian language, if his heart – the Belarusian one. What do you want to lose? "
"I'm driving down the road. There's a billboard – "Stick To Speed Limits" in Belarusian. I do understand what the author wanted to say. But if a Russian man or a Russian-speaking Belarusian is driving there: he will not understand the words written there except for the word "regime"( the Belarusian word for "speed limits" reminds the Russian word "regime" – translator's note). Can it be true (he thinks) that it's again about the Lukashenka dictatorship? What did you want to show with this? 50 percent of the population (that's a liberal estimate) will understand what the road builder or the traffic cop demands... But the rest will not understand! So, they had to return the name normal. Who will understand that this is about speed limits, not about Lukashenka's dictatorship..." – the dictator said.