Vladimir Zelensky Becomes New President Of Ukraine
241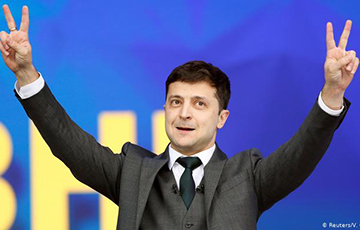 (updated) More than 70 percent of voters have voted in favour of him.
As of 8:45 am, April 22, the Central Election Commission of Ukraine has processed 91.50% of the electronic protocols.
This is evidenced by the data published on the Central Election Commission website.
According to the CEC, after processing 91.5% of electronic protocols, Vladimir Zelensky has got 73.16% of the vote (12,418,592), Petro Poroshenko – 24.5% of the vote (4,159,656).
2.32% of ballots have been recognized invalid.
On April 21, the second round of presidential elections was held in Ukraine. Well-known showman Vladimir Zelensky and current president Petro Poroshenko claimed the presidency. According to the National Exit Poll 2019, which was held by the Kiev International Institute of Sociology, the Ilko Kucheriv Democratic Initiatives Foundation and the Razumkov Center, 73% of respondents voted for Zelensky, and 25.5% for Poroshenko.
After the announcement of the preliminary data of the National Exit Poll, Poroshenko said that he would leave the post of head of state the next month, but would not leave politics. Zelensky says that Poroshenko has congratulated him on his victory.
Zelensky has been also congratulated by US President Donald Trump, French President Emmanuel Macron, NATO Secretary General Jens Stoltenberg, Polish President Andrzej Duda, European Council President Donald Tusk, European Commissioner Johannes Hahn and British Foreign Secretary Jeremy Hunt.