10 Thousand BMZ Workers May Lose Their Work
23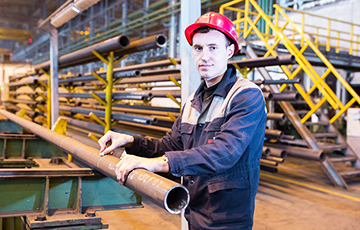 The net profit of the Zhlobin BMZ amounts to meager 300 thousand rubles.
The banki24.by site continues to analyze the annual reports of the flagship enterprises of Belarus. Next in line is the metallurgical giant in Zhlobin.
The revenue of the Belarusian Metallurgical Plant in Zhlobin amounted to 3 billion BYN in 2018. At that, the profit from sales of BMZ products amounted to 247.3 million BYN. However, last year, almost all of the company's profits from sales were eaten by the losses from investment and financial activities – BYN 225.2 million.
Only 300 thousand BYN of net profit remained at the BMZ after paying the income tax. By the beginning of 2019, the BMZ could not compensate for the losses of previous years. As a result, on January 1, the uncovered loss of the enterprise amounted to 345.6 million BYN.
After modernization, Zhlobin metallurgists have a high debt burden. By the beginning of the 2019, the BMZ liabilities on long-term loans and borrowings were 986 million BYN, on the short-term ones – 1,172 million BYN, on the short-term part of the long-term liabilities – 391.5 million BYN.
This means that the enterprise is to repay more than 1.5 billion BYN on loans and borrowings for 2019!
The BMZ short-term payables are several times higher than the receivables –1,103 million BYN against 269.8 million BYN. At the same time, the short-term assets are several times less than the short-term liabilities – 728.1 million BYN against 2,668 million BYN.
To continue the activity, the enterprise must find external financing. The metallurgists have a huge shortage of their own turnover. In case of serious problems at the enterprise (the loss of state support and crediting), up to 10.9 thousand people may lose their jobs. This is the average staff number of the BMZ in 2018.