Will Russia Trade with Ukraine Through Belarus?
15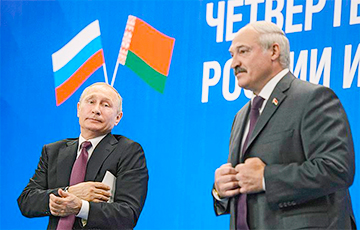 But the plug can be pulled at any time.
In response to Kiev's sanctions, Moscow imposed a ban on exports of oil and oil products to Ukraine. On the other hand, Belarus receives an unexpected bonus. Analysts believe that Minsk will now expand grey schemes of oil re-export to the neighboring country at full capacity. Benefits of the Belarusian regime are described by RIA Novosti.
The essence of the ban
Russian Prime Minister Dmitry Medvedev announced restrictive measures against Ukraine on 18 April. From now on, oil exports are prohibited; coal, diesel fuel, gasoline and liquefied petroleum gases (LPG) can only be supplied with special permissions from the Ministry of Economic Development.
It means that Russia will consider applications of domestic companies for supply of hydrocarbons to the Ukrainian market and make a separate decision in each case. In fact, exports can be frozen at any time.
According to estimates of the Ministry of Economic Development, these measures will affect trade turnover of more than four billion dollars - it's about 30% of last year's volume of mutual trade. Thus, Moscow has responded to the expansion of the list of Russian goods banned for import to Ukraine.
The ban also applies to engineering, metal processing and light industry products. As Medvedev noted, last year the supply amounted to 250 million dollars.
Experts point out that crude oil is not crucial for the Ukrainian economy. In general, Kiev practically does not buy in raw materials, because most of the country's refining capacities are out of order.
The ban on export of motor fuel - gasoline and diesel fuel - is much more severe. Oil products are in demand in Ukraine, and the key suppliers of these products are Russian and Belarusian companies.
In total, they ensure up to 80% of Ukrainian fuel imports. Some products entered the country thanks to Belarusian re-exports. Everything bought by Belarus from Russia and not used was sold mainly to Ukraine.
A devious ally
Only over the first seven months of the last year Belarusians imported 2.3 million tons of oil products from Russia amounted over $900 million. The real need of the republic in oil products is much lower. Five years ago import did not exceed 90 thousand tons.
To fight re-export, since November Russia has limited supplies of gasoline, diesel fuel and fuel oil to Belarus until the end of the year.
The Ministry of Energy says that duty-free export of oil products to Belarus is inexpedient - the country is totally self-sufficient in refining Russian oil. But Minsk does not need the surplus: the ally supplies it to neighboring Ukraine, raising billions of dollars.
However, analysts are not sure about effectiveness of such measures. "If Belarus consumes ten tons of conditional 100 tons a day, the remaining 90 tons can be easily resold. Given the summer season and reduced consumption of oil products, a significant volume is released," an independent economic expert Anton Shabanau says.
'Twisting hands or an opportunity to make money"
Experts say that de facto Moscow opened up an opportunity for Minsk to expand re-export schemes.
"Of course, the expansion of grey import will be unofficially supported by the Belarusian authorities, as Minsk is really dissatisfied with the tax maneuver, which is currently carried out in Russia and is associated with zeroing of customs duties on oil and petroleum products," Aliaksei Hromau, Director of Energy at the Institute of Energy and Finance, suggests.
Lukashenka has already called the tax maneuver of Russia "twisting of hands". But zeroing of customs duties on oil products is a fundamental task for the Russian authorities. It reduces the burden on the budget and allows subsidizing its own oil refining. Another thing is that Belarus loses its competitive advantages.
Therefore, the current ban of Ukraine is seen by analysts as a rather devious maneuver. On the one hand, it drives Belarus to expand its grey re-export. On the other hand, if the Belarusian partners go too far, Moscow gets another lever of pressure on Lukashenka.
"Thus, we let Belarusians to reduce losses caused by Russian decisions to zero customs duties for some time due to this ban and offer such a way out. But we can pull the plug at any time if we do not like something," Gromov sums up.