Oleh Bilokolos: I Hope Zelenskiy Will Make Minsk Negotiations More Transparent
6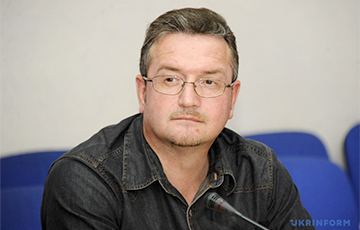 It is important that the new president of Ukraine does not lose credibility gained in the elections.
On April 21, the second round of presidential elections was held in Ukraine. According to its results, Volodymyr Zelenskiy became a new president of Ukraine with a significant margin from Petro Poroshenko.
Oleh Bilokolos, the expert in foreign policy and security issues at the Ukrainian Maidan of Foreign Affairs Analytical Center, commented on the results of the presidential election in Ukraine and possible implications for Kyiv's policy towards Belarus, in an interview for Charter97.org.
- How do you explain such a significant margin of Volodymyr Zelenskiy from his opponent - the current president of Petro Poroshenko?
- The factors that I spoke about immediately after the first round of the presidential election played their role.
First of all, this is the disappointment of Ukrainians in politicians who have been on our political Olympus for 27 years and have irritated the people a lot by now.
Secondly, it is corruption, which causes outrage in many voters.
Thirdly, the weakness of the electoral resource of presidential candidate Petro Poroshenko. Candidates who had influence on the electorate in the first round (Yulia Tymoshenko, Igor Smeshko and others) spoke critically about Poroshenko's policies.
The fact that Poroshenko did not score even 25% of votes in the second round reveals the real level of confidence of Ukrainians in the current government.
- How can Zelenskiy's election be reflected in Ukraine's policy towards Belarus?
- Frankly speaking, it is difficult for me to say what the policy of the new administration will be in the Belarusian direction. In many ways, everything will depend, including on what kind of foreign policy team Zelenskiy will form around him.
But first of all, the new head of Ukraine will be interested in what actually happened in the Normandy format, what the actual situation in the Minsk format is, what is happening in general.
Because the half-closed character of these meetings confuses the Ukrainians and does not allow us to understand: what is the result of these five years, what work has been done and what to do next?
I think that until the new president receives answers about what is happening in this area, further steps will be determined in relation to Belarus.
In the context of confrontation with Russia, this is the main priority for Ukraine. If we talk about the general context, even before the official election results were announced, just yesterday, there was a mass of world leaders calling to congratulate Zelenskiy - from the USA, Germany, Poland, and Brussels. There has been a conversation with Prime Minister of Israel Netanyahu, the invitations to Israel and Berlin.
Therefore, for all the importance of Belarus, as the nearest neighbor, for Ukraine, some line will be built in relation to your country when the new president receives answers to questions about the Minsk process. And not only the president - all Ukrainian society is waiting for answers. Because for me, as an expert, it is still not clear what has been happening in Minsk for five years, and what the outcome is.
- Do you think that Zelenskiy can make the Minsk process more transparent?
- I very much hope that Volodymyr Zelenskiy will make these negotiations more transparent. His line of conduct gives me a certain optimism and faith that this information will become more open. And our society will finally better understand what is going on there - not by fragmentary comments.
I am sure that Zelenskiy's communication with Ukrainians will be more open and regular. I hope he realizes what kind of credibility he has received and will try not to deceive those people who voted for him all over Ukraine.