Valiantsin Trokski To Judge: Your State Robbed Me
6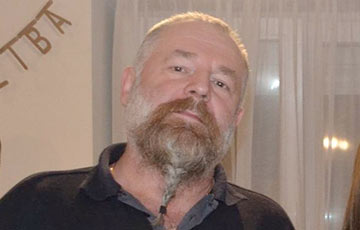 The BNC activist has demonstrated how to talk with the Lukashenka court.
Valiantsin Trokski, a BNC and Narodnaya Hramada activist, has told about this to the Charter97.org website, commenting on his detention and illegal trial. – On April 21, I came to the Holy Spirit Church to picket against the destruction of Kurapaty. I had a poster with the words from the poem by Uladzimir Niakliayeu in my hands: "Can you hear the groaning? That's Kurapaty! " After a while, officers from special services in civilian clothes came up to me. One of them introduced himself as a colonel. It was as though he was just afraid to introduce himself. They asked me to leave, but I stated that the protest is my civil right, which is guaranteed by the Constitution.
After some time, they took me by the arms and led me towards a traffic police patrol car, waiting nearby. On the way, I was shouting: "Freedom To Political Prisoners!", "Freedom To Statkevich!", "Freedom To Palienka!", "Freedom To Zhamchuzhny!". The poster was torn from my hands.
Then I was taken to the Tsentralny District Police Department and thrown in the "monkey cage". By order of the man in civilian uniform, I was transferred to the "strong box." It was quite dark, cold in the "strong box," there were all the conditions for a person to feel uncomfortable. There is only a narrow bench to sit on. I do not know how much time I spent there, because time is dribbling along in a special way in such places.
For some reason, they decided to transfer me to the Center for Isolation of Delinquents. The logic of the authorities is not clear, because before the trial I was supposed to be kept in the temporary detention facility. Probably, they considered that the conditions in the temporary detention facility were too good to keep me there.
They kept me in a four-person cell in the isolation center for a day, and then, after Mikalai Statkevich's release, they transferred me to his cell. It turned out that they shut a homeless person together with the BNC leader. I think this is another measure of psychological pressure on political prisoners.
On April 23, they took me back to the district police department, put me in a dirty "strong box" again, put handcuffs on me, which were terribly small and hurt my hands. I appealed to the fact that I was an administrative prisoner and handcuffing was not necessary, but I suppose that was just another method of pressure.
They brought me to the Kirau district court. The ill famous judge Viktoryia shabunia was considering my case. I stated that I did not recognize their illegal court. Last time I was tried under a false protocol and I do not think that one can seek justice in the Lukashenka's court. I ignored many questions. When Judge Shabunia asked me about my place of work, I replied that I should had retired at 60, but their state robbed me and raised the retirement age. I cannot find a decent job at such age. Only some slave-like labor.
Judge Shabunia fined me 50 basic units (1275 rubles). But I stated that the right to protest was guaranteed to me by the Constitution and this was my civil position.
I intend to continue the struggle, because we are being turned into slaves. If we don't fight and protest, we will lose the country, – Valiantsin Trokski told Charter97.org.