Journalists Asked "Lukashenka's Helicopter" For Rent – And What Happened As Result Of It
9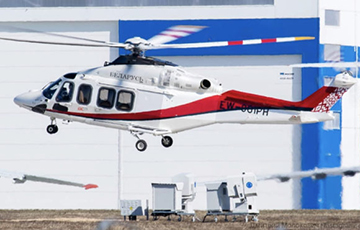 The Belavia answer refutes the words of a dictator's friend.
Belavia does not lease the elite helicopter Agusta-Westland AW-139, which it received from billionaire Mikhail Gutseriev. Instead, the airline offers to rent a plane, Belsat reports.
"We can only offer an aircraft for rent, – employees of the Belavia reception center told us. – You have to write an application request: where, for how long, what airfield – this is not a simple question. In summer, the applications are to be submitted in advance."
On April 19, the chairman of the board of directors of Slavkali, Mikhail Gutseriev, told reporters that he had given the helicopter with a tail number EW-001PH in the colors of the national flag of Belarus to Belavia for rent.
Officially, there is not a single helicopter in the Belavia fleet.
Gutseriev declares that he can give a helicopter to any company and any citizen – he says, "payment is the main thing."
According to the businessman, the helicopter costs $ 14 million.
For the first time this board flew in to Belarus on February 19. On the same day, according to Flightradar24's data, it was hovering over Astrashytski Haradok, where Lukashenka's residence is located.
This and other facts – the number of the board, liveries, Mikhail Gutseriev's friendship with the ruler of Belarus – allow journalists to assume that it is Lukashenka who will probably use the helicopter.
Mikhail Gutseriev is a Russian billionaire (28th place according to Forbes). The year before last, one of its companies, Slavkali, started the construction of a potash plant in Belarus worth $ 2.1 billion. This is the largest project that the private company is implementing in the post-Soviet space.