In Such a Situation, We Should Come to the Main Temple of the Country, Mikalai Statkevich Says
70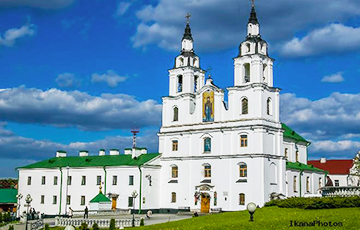 Let's pray together for deliverance from evil.
One of the leaders of the Belarusian National Congress Mikalai Statkevich commented Charter97.org on events in Kurapaty on April 4. The politician urged to come to Freedom Square near the Minsk Holy Spirit Cathedral at 12.00 on Sunday, April 7.
- What could you say about the destruction of crosses of Kurapaty by the authorities?
- It's the violation of the main Christian symbol. It's an insult to feelings of Christians and my feelings as well. I now have a Easter Lent I try to observe. Christians are preparing for Easter, when Jesus Christ was crucified and resurrected, and crosses are broken and demolished. Crosses installed in the place of death of innocent people. At least tens of thousands. The majority of them might be Christians. Perhaps, hundreds of priests of different faiths were buried there.
And all this happens to please the boorish desire of the person in power.
I don't know what else he wants to do. Lukashenka killed and kidnapped people, praised Hitler, destroyed our economy, turned it into the moulage, which is supported by subsidies. Hundreds of thousands of people had to leave the country to earn crust. Today, he attacks people he's failed to provide jobs for - 'parasites'. People are subject to absurd extortions.
And now it's a satanic act. This is an insult not only to believers, because our civilization is based on the Christian religion. It's the insult to the faith of our ancestors. What else will he come up with?
- Why do you think Lukashenka gave such a wild order?
- It looks like insanity. You begin to remember diagnoses that Dr. Szczygelski once wrote about. Perhaps, it's March madness.
The whole world found out who's in power here. After all, some countries, which respect religion, suddenly saw a "good man" worth contacting and working with. Look who you are dealing with. We have known it for long.
- You urge people to come to Freedom Square near the Minsk Holy Spirit Cathedral at 12.00 on Sunday, April 7. Why do you think it's important to gather there?
- First of all, I think that since feelings of believers and the symbol of Christianity are hurt, we should come to the main Christian temple of the city - the Cathedral. By the way, there are two Cathedrals on this square - one is Orthodox and another is Catholic one.We will pray near the Orthodox shrine first.
Even under the laws of this authority, a prayer is not covered by legal acts. On the contrary, the law prohibits to hinder prayers and prayer meetings, which take place in the area adjacent to temples. We have this right.
I invite people to come with icons, crosses and candles. Since such a crime against our sanctity has already been committed, we must ask God's forgiveness for this. It's worth praying together for deliverance from evil. This is the line of Pater Noster.