Heroes And Scum. "Rogue Song" Of Belarusian Tractor-Driver Breaking Crosses In Kurapaty
106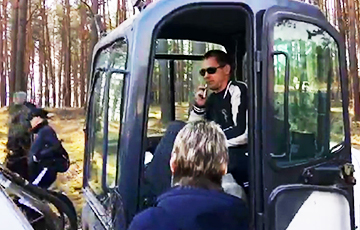 Activists defend the people's memorial: a shocking video of the clashes between Kurapaty defenders and vandals from the authorities.
Today, Belarusians again came to defend the national memorial in Kurapaty from destruction.
During the confrontation of activists with the police and the builders working in the tract, Youtube user "Kastus Kalіnouski" drew attention to the shocking video.
A few minutes later, Kurapaty defenders Nina Bahinskaya and Pavel Seviarynets were brutally detained by the riot police officers.
We remind, that the authorities demolished crosses around the Kurapaty perimeter yesterday.
Activists report that about 100 crosses were put down and taken away.
On March 1, at a press conference, Lukashenko expressed dissatisfaction with the crosses around Kurapaty, which are visible from the road.
Mikalai Statkevich, one of the Belarusian National Congress leaders gave an interview to Charter97.org and urged people to come to Svabody Square near the Minsk Holy Spirit Cathedral (Orthodox) at 12.00 on Sunday, April 7.