Anathema For Humiliating Christian Symbols
Uladzimir Niakliayeu
8.04.2019, 17:17

1,846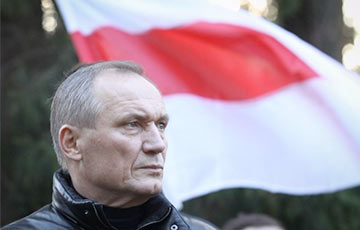 God gave us both body and soul, so that we could protest not only virtually, but also physically.
One of the BNC leaders, poet and politician Uladzimir Niakliayeu said that at the prayer service near the Holy Spirit Cathedral in Minsk:
"For humiliating crosses, icons and Christian symbols, one is accursed. Since we lived up to see to this in our Belarusian Christian world, it is impossible to tolerate this, at least for me and my Christian heart.
One can, of course, protest virtually, but it seems to me that God gave us both soul and body, and this means that it is His good will that we express ourselves in this protest physically as well.
As a politician, I cannot change sides, betray my conscience, my faith. Therefore, I am here," – the politician said.
"Those who knocked down the crosses, violated their own law, which states how much time they are to serve for it," – he added.
We remind that on April 4, authorities demolished crosses around the Kurapaty perimeter.
Activists report that about 100 crosses were pulled down and taken away.
On March 1, at a press conference, Lukashenka expressed dissatisfaction with the crosses around Kurapaty, which can be seen from the road.
One of the leaders of the Belarusian National Congress, Mikalai Statkevich, called for Sunday's public prayer near the Minsk Holy Spirit Cathedral (Orthodox) at Freedom Square on April 7, at 12:00.
Co-chairman of the Belarusian Christian Democracy Pavel Seviarynets supported the idea of holding a prayer service near Minsk Holy Spirit Cathedral on Sunday.