Minsk Dwellers Oppose "Officials' Conspiracy"
1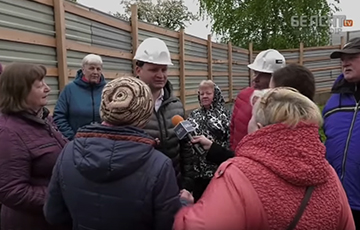 Residents of Rosa Luxemburg street are outraged by the corruption in the construction industry.
For several months, residents of a high-rise building in Rosa Luxemburg street have been suffering a defeat in the case of illegal construction of an underground parking near their house. They have been to all the possible instances, even to the assistant of the head of the country – but to no avail, Belsat reports.
The residents blame the Lekt Joint Stock Company for the problem and, in this situation, they see a conspiracy of high-ranking officials.
They have promised to stop the construction, but continue to dig the ditch further. They were supposed to build a two-story parking, but we have drawings confirming the construction of a three-level underground and ground parking.
Complaints of the residents returned from different instances to the Minsk City Executive Committee, where, in fact, where the construction was started. The customer is the JSC Lekt. Its former leader is Aliaksandr Seliazniou. Today he is one of the heads of the Haloudziarzhbudekspertiza, which gives permission for construction. Activist Viktar Bartashevich talks about a conspiracy of officials and corruption in the construction industry:
"Those ones, who gave the permission, they violated the law, and they knew that they were violating the law. And those who are checking now, they see that the laws, regulations have been violated, and they have to take some action. And they are either afraid or in the mix."
But residents of the house in Rosa Luxemburg are not afraid to defend their rights. Now they are going to appeal straight to the KGB and the Supreme Court of Belarus so that they can investigate into why the parking is growing deeper in violation of building codes.