Volha Nikalaichyk: Until We Put Down Lukashenka, He Will Not Leave National Memorial Alone
3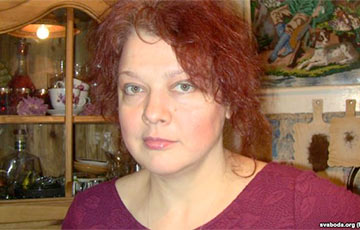 Construction of the exhibition center in Kurapaty should be stopped at the initial stage.
On May 14, Lukashenka ordered to build the National Exhibition Centre on the site near the Expobel Shopping Centre, bordering the Kurapaty, by 2021. Volha Nikalaichyk, a public activist, director and participant in the Kurapaty defense actions, commented on the situation around the people's memorial to the Charter97.org website:
– Lukashenka has finally joined the ranks of those who shot people in Kurapaty.
It was completely expected. For many years, there was talk that an exhibition complex would be built right next to the road of death.
The papers have been prepared long time ago. Nothing else could be expected from Lukashenka after the demolition of the crosses. I've been telling since long ago, that he would build up Kurapaty. The land there is very expensive, and it makes the construction profitable for the regime.
After the disappearance of Zakharanka, Hanchar, Krasouski and Zavadski, after the mysterious death of Hennadz Karpenka, nothing will stop Lukashenka. He finally joined the ranks of those who shot people in Kurapaty.
If we don't stop Lukashenka, he will go all the way to destroying Kurapaty.
Unfortunately, we were unable to raise society to fight against the regime after the demolition of crosses in Kurapaty. Still, we should go to pickets in the center of Minsk, sit on the asphalt, block the Nezaleshnastsi Avenue with crosses in our hands, stop transport.
Lukashenka broke into the very heart of the sacred place, on Golgotha, with his dirty NKVD claws. Trampled a dirty boot into the heart of a place important to national memory. And until we get rid of his power, he won't leave the people's memorial untouched. We'll break out of this 21st-century NKVD hug only by changing power.
There is little chance of stopping this new construction in Kurapaty without political change, but every effort must be made to ensure that it does not even begin. If the exhibition centre is built, we will not be able to dismantle it. Therefore, it is necessary to prevent the very beginning of the construction and to hold on until we expel this power from Belarus.