Seed Onion And Other Valuables
10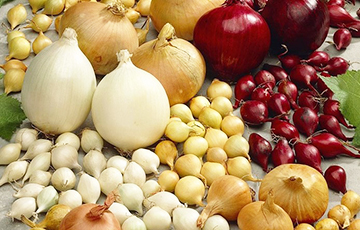 Forget eggs, butter and onions – just keep your hands off potatoes!
They say seed onion has disappeared not only in our country – the neighboring Ukraine already makes jokes about the "golden onions". They suggest using the vegetable in the jewelry instead of gem stones, and not to be ashamed of the onion breath after eating it, as this will be reckoned as a sign of wealth.
Perhaps the country is reaping the fruits of last year's poor harvest. In any case, such a version is adhered to in the company store of the seed producer MinskSortSemOvosch, where there was no seed onion either: the old one has been sold out, and the new one has not yet grown, BelGazeta writes.
Quick buyers managed to purchase the valuable product for 6 rubles per kilo, and now, at best, only the Dutch onion can be found, at a price of up to 35 rubles per kilo. In general, seeds sellers say that it is not worth waiting for the shipment of seed onion this year.
Ekonomicheskaya Gazeta writes that in 2018 in Belarus, seed onion (domestic) was sold at 2 rubles per kg, and this year - at 9 (the Dutch one) and more: "Who would have thought that one of the most popular planting materials for the citizens of Belarus would be just as unattainable for them like momordica, Kiwano melon or Hopi corn. " And this is a clear hint that you can invest not only in cryptocurrencies.
"All the achievements of the Belarusian agriculture, including the strategic cooperation with fraternal China, have gone onion-shaped," jokes Twitter user Rzewuski @Rzewuski_P.
Юлия JS @jsochi advises the gardeners to hold on: "That's it. The world is rolling into the abyss. No seed onion has been delivered to Belarus for planting. Gardeners, hold on!" Evgeny Kriskévich @Ekriskevich is asking, hiding the fear: "Is it true that seed onion is sold at BYN 19 per kilo in the kiosks?" Meanwhile, Vadim @Lasteg asked to "pay the call premium with seed onion" #seedonion.
Dzmitry Suhaniayeu @dimasugonyaev "is madly worried about seed onion. I don't read the news about it, but see the headlines pretty often." The notorious "Only have I grabbed the eggs, butter vanished!" comes to the mind. Oh, forget eggs, butter and onions – just keep your hands off potatoes!