From Drazdy Without Love
34
Iryna Khalip
17.05.2019, 14:25

34,130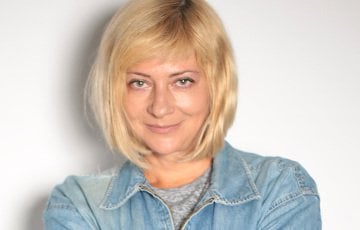 The swamp is a natural environment for a plot to arise.
If there is a place in our city that can be blown up without any explosives, just by hatred and fear, it is not even the barracks of Chyzh that have disfigured the city, but Drazdy. One can agree to live there only by a court decision, when nothing depends on you. However, is it life?
Last week, colleagues published a full list of homeowners in Drazdy. I looked at it and made an effort not to feel pity for inhabitants of the ghetto (none of them are worth pity, not a single creature). I read it carefully and it took me an effort not to gloat (but you and I are good, we do not gloat). In the end, I realized that Drazdy are a good place to study by entomologists or other specialists. But not to enjoy an evening tea on a terrace.
Recently, Andrei Vtyurin, the former chief of the security service, who is in the KGB pre-trial detention facility, has been the most popular resident of Drazdy. KGB chief Valery Vakulchyk also lives in Drazdy, still not in a pre-trial detention facility. So I imagined their lives. Let's assume that Vtyurin, who hasn't been arrested yet and who has plans for tomorrow, enters his garden one beautiful morning to pick up a fresh hogweed for breakfast. And, for example, Vakulchyk is walking with his badger-dog. They exchange friendly salutations, promise each other to drop into at the weekend for a throw-in party. Meanwhile, Vakulchyk already knows that not only at the weekend, but also tonight Vtyurin is not able to visit anybody, and the throw-in party will be played only with cellmates. At the same time, I assume that Vtyurin himself has already collected a good file for Vakulchyk and is waiting only for an audience to drown him. But he won't have time, because Vakulchyk will be the first to act.
They all live like this, knowing that if you should be the first to bite. There are no options, it's only the matter of speed. And that's why they watch each other, pick up the incriminating evidence, inform, humiliate themselves, to be the first to use the incriminating evidence. But at the same time they greet each other, smile, give bribes and drink together, hating and being afraid of each other.
Leaders of state concerns neighbour upon law enforcers, who jail them. Neighbors-law enforcers also put each other in jail. Ministers and propagandists neighbour upon retired favorites, who have not become an example to follow. And retired favorites who live next to those who jailed them spit on their plots and whisper curses. All this resembles a small provincial hell. Not Dante's circles, of course, but a stinking swamp. Also, there is a priest among these residents to make this crows look very grotesque. Probably, he was intentionally settled there to sanctify bribes.
For example, there is one of the landladies in Drazdy - former circus director Tatstsiana Bandarchuk. At first she was arrested for bribery, but she remained at large and even returned to the circus. She was not imprisoned anymore, but a criminal case was opened for power abuse and she was kicked out of the circus. About five years ago, she told journalists that she did her garden after retirement. And imagine this bucolic retirement time - to do your garden next to those who jailed you. To dream of punching them in the skull with a hoe. And to know that you won't hurt them - this is your own personal hell.
Or, for example, Aliaksandr Barouski, former head of Belneftekhim. His neighbor Stsiapan Sukhorenka arrested him in May 2007. Several months later, however, Sukhorenka left his post, generously covered with insults and ridicule on the part of the master. That was a great day in Drazdy! He neither sold his house nor left this crow's settlement, but got used to humiliations, as well as Vadzim Zaitseu also resigned. Can you imagine how they both hate each other and Vakulchyk? However, I think Vakulchyk will soon join them: the KGB chairmen are changing faster than motorcyclists on roads.
On the other hand, such a small stinking swamp is a perfect natural environment for a plot to originate. Everyone hates each other. Some have been jailed, others are about to be. Current executioners sit back to back with those retired and therefore offended. Everyone knows that one should run away from this swamp, but there is nowhere to go. And some suddenly start thinking that if the fattest toad is out of the swamp, it will turn into a sun-dappled pretty pond with clean water, and there will be no need to be afraid and hate neighbours anymore. So if one wants to look for a plot, it hides not in separate structures - the KGB, the Ministry of Defence, the Interior Ministry but in Drazdy. It is the place where the number of potential plotters per square meter is going off the scale. And it is easier to hide from strangers in the thickets of hogweed there than near the monument of the city police officer.
Now it is clear why after Vtyurin's arrest the information on disclosure of law enforcers' plot appeared everywhere. Probably, Vturin and a couple of his colleagues got tired of burning eyes of neighbours cause nightmares and back itchiness. And one gave a piece of advice: a priest is needed to break a plot. They asked their neighbour from Drazdy. And as soon as he heard the "plot", he informed about it. Because he was as vigilant as others in Drazdy.
Iryna Khalip, especially for Charter97.org