The MIA Makes Homophobic Statements Again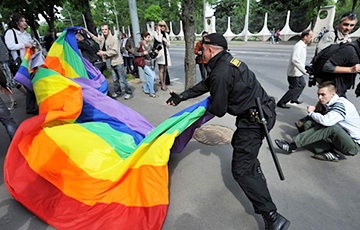 Today is International Day Against Homophobia.
Anti-homophobia day was not and is not important for Belarus, the Ministry of Internal Affairs says. This is the reaction of the agency on the rainbow-tinted flag hung by the British embassy in support of the LGBT community.
It will be recalled that in the morning, May 17, the British embassy raised the rainbow-tinted flag. The International Day Against Homophobia is celebrated around the world on this day. In addition, heads of the U.S, Swedish and Israeli embassies in Belarus, as well as the UN and WHO missions here, made a video statement on this occasion.
The MIA reports that it has noticed the rainbow-tinted flag over the embassy today.
"It was May 17, when adherents of same-sex relations set a certain date to celebrate. For our country, this day was not and is not important," the statement on the official website of the MIA informs.
It recalls that the priority of the socially-oriented policy of the Belarusian state is to protect motherhood and childhood, as well as protection of the family institution.
"The MIA is also watching these values. Our position remains unchanged: the artificial inflation of the topic of same-sex relations is destructive, violates norms of morality, and entails an increase in sex crimes against children!", the statement says.
The first headline of the statement was "The Position of the MIA Remains Unchanged," but later it was replaced with "We Are for the Natural - They Shall Not Pass! The slogan served as the response to the rainbow-tinted flag last year.
At the same time, British Ambassador Fionna Gibb explained why they were hanging the rainbow-tinted flag in Minsk for the fourth time:
"We do this not to promote LGBT-community, but to promote equal rights. The LGBT-community does not demand special rights, but wants the same decent and respectful attitude and to enjoy the same rights as other people, because human rights are universal and should apply to all people," Fionna Gibb said.