Paid Medical Services For 'Parasite' Families?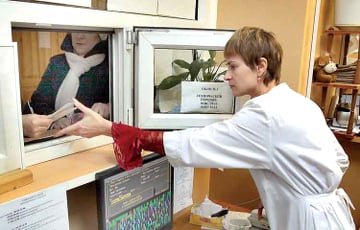 Doctors are refusing a sick leave, referring to Lukashenka's decree.
In late April, a seven-year-old son of Alesia Horbatsenka fell ill in Babruisk. When the woman asked doctors to give her a sick leave to care for her child, she was refused. The reasoning was as follows: the boy's father works abroad. At the same time, Alesia herself was officially working in Belarus and paying taxes to the state when she was refused the sick leave.
Charter97.org asked Alesia Horbatsenka to comment on the situation.
- Tell us what happened?
- My child had a rash, and I called a doctor. When the doctor arrived and examined the child, he said it was chickenpox and started filling out documents.
He did not ask about me, because I had often called doctors before, and my data was known. At first, the doctor asked where the child studies. And then he asked about my husband's workplace.
I was not used to lying and said that my husband works abroad, in Poland. You know, doctor's face changed in a moment. He told me that he could not give me a sick leave. I was surprised and wondered why.
The doctor replied that since my husband worked unofficially, and under the instruction I had to provide a special certificate to the polyclinic that my husband was paying taxes in order to get sick leave. And this is the only way to get a sick leave. Otherwise, there is only a certificate that one has consulted a doctor. However, I asked for a sick leave, and the doctor replied: if there is an inspection, your sick leave will be deducted from my salary.
The doctor pushed the door and ignored all my prayers, because such a certificate might not be accepted at work.
He just said that if I had any questions, I could contact the head of the clinic.
I was, of course, in shock. Most of all, I was shocked by the attitude of the health worker. It was the first time I faced such a situation, when I found out that the doctor ran away and pushed the door as soon as he learned about employment. Earlier, I was always issued sick leave.
– What did you do next?
- I called my superiors and asked about the "certificate" I was offered instead of a sick leave. I was told that if I had no sick leave, no certificates would be accepted and I had to write an application for leave at my own expense.
I had to take the "certificate" in order to have at least some justifying document. Then I remembered that we had a system of electronic appeals, found the site of the clinic and asked to explain me how I was denied a sick leave.
The next day, I had a call from the head of the children's polyclinic and was told that I had to provide them with a certificate that my husband was officially employed. To my legal question why I had to do this she replied that there's an instruction from January 31, 2019, and paragraph 30 said that if one of spouses did not work, only the certificate could be given.
I said that I would come to the polyclinic and write a complaint. The head of the clinic told me that it's not necessary because they had a commission and I had to come on May 8, when the child recovered.
- What kind of commission was it?
- The commission involved four people, all of whom were heads of children's polyclinics in Babruisk.
They told me about decree of Lukashenka No. 200 and doctors had to ask for all necessary information to issue sick leaves.
And the instruction, issued on January 31, 2019, paragraph 30 says: if mother or father of the child (or one of caretakers) is not working and is not registered as a non-working citizen, the second spouse, even if officially employed, can't get sick leave, but only a certificate of medical treatment.
The commission told that special training was held in polyclinics; they were instructed how to act in accordance with paragraph 30.
- What did happen next? Did you get this sick leave?
- I am lucky to say that a month ago I received a letter from my husband in Poland saying that he pays taxes there. I took this letter with me, they accepted it and said that they would consider whether I could get a sick leave.
As a result, I got it, but since I had already written a vacation request at my own expense, nobody would pay.
- Was your husband enlisted as "the unemployed in the economy"?
- I do not know. Once we received a letter for my husband asking to come to the tax office for a "conversation". That's it.
Frankly speaking, we do not know whether he is on the "parasite" lists or not. Nobody informed us.
- But you officially work and pay taxes, participate in financing of social expenses of the state. Why are you actually denied free medical services, and forced to take a vacation at your own expense?
- Well, I don't get it. I asked this question to the representatives of health care sector at the meeting. I was told this way they followed the instruction and any disobedience entails loss of part of their salary. If I do not like it, I should "file complaint to higher institutions".
- Now many families have the situation when one of spouses has to work abroad. What would you like to tell them?
- Many people why I told doctors the truth that my husband works abroad. According to them, I should have lied.
But it's not my piece of cake, I tell the truth.
Secondly, why should I hide anything? I am a working mother, I pay taxes. My husband had a good reason to work abroad. Why should I hide anything?
And I'd like to say to everyone: we should not keep silent. If this problem is hushed up, the state will realize that it may press on the population and take away last money.
- What do you think about the state's attitude towards citizens?
- Let's just say the state never helped me. Even when my parents died, the state did not help me to overcome the difficult situation. Accordingly, I have the same attitude to this power.
And the story with my sick leave is lawlessness, that's all I can say. The authorities take the latter away from mothers as well. This is not just illegal. This is beyond understanding. I simply can't find a word of indignation.
I've decided to raise it in the media because it affects me. And I know that it concerns a lot of people who are just silent. But I am not the person who can be silent. Perhaps, that's why I have managed to stand tall in this situation.
Today, independent media publications are sometimes the only way to protect yourself. Perhaps, after reading this material, next time the authorities will think about whether to act so harshly against citizens. Maybe my story will be helpful.