Every Pensioner Loses Several Thousand Dollars A Year, Lawyer Says
58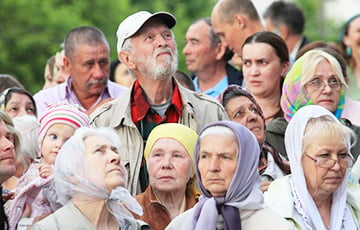 How do Belarusian pensioners live in comparison with the European ones?
In late April, a forum of seniors' (pensioners') organizations of the Eastern Partnership and the European Union was held in Minsk.
How does the life of Belarusian pensioners differ from that of the European ones?
Charter97.org asked the former judge of the Constitutional Court of Belarus, Doctor of Legal Sciences, Professor Mikhail Pastukhou, who took part in the forum, for comments:
- The forum involved delegations from the Eastern Partnership countries (Armenia, Azerbaijan, Moldova, Ukraine, Belarus, Georgia) and the European Union (Belgium, Germany and the Netherlands), as well as two major international seniors' initiatives (European Seniors' Union and AGE-Plartform).
It was first of all about comparing the situation of pensioners in the countries of the former USSR.
- And what is the difference between Belarusian pensioners and their Eastern Partnership colleagues?
- In this regard, I was struck by some things. I was impressed how freely pensioners in these countries feel, how easy and effective they are in contact with the authorities.
It has revealed striking difference between the life of pensioners of the post-Soviet countries and those of Belarus.
Pensioners in Azerbaijan, Armenia, Moldova, Ukraine and Georgia feel more confident than in Belarus.
They join various organizations, including political parties, they set up universities of the "golden generation", travel, can contact the authorities and be heard.
Belarus has a completely different picture. We have no organization registered that would unite pensioners. For example, Belarus has an informal association of pensioners "Our Generation" that can't get an official status for 10 years. The Ministry of Justice refused to register the initiative group headed by Tatstsiana Zelko and her son.
The authorities perceive the Belarusian pensioners as weaklings, who require some money to survive. Given our prices and tariffs, these conditional 200 dollars of an average pension (according to official statistics) are much less in purchasing power than $80 of average pension in Armenia or Ukraine.
Our pensioners can't not only create their own institutions, the authorities just ignore them. The same activists of "Our Generation" have repeatedly appealed to the Ministry of Labour with proposals to introduce benefits for transport or when buying medicines - but received official replies only.
It turned out that Belarusian pensioners are the most disenfranchised even against the background of the former Soviet Union. Only if they are elite pensioners - former officials or state security officers, those who worked for the Investigative Committee, the Ministry of Internal Affairs and so on.
- And what does the situation look like compared to European pensioners?
- Of course, it's worlds different, not only in terms of income, but also in terms of the role of pensioners in the life of society.
Of course, the EU retirement age is a little higher than in our country - mainly at the age of 63-65. But the life expectancy of men there is 10 years longer than in Belarus. The male population there lives up to 80 years, while men do not always live up to 60 years here. Therefore, in the long run, when the retirement age is raised to 63 years, many opeople won't live to this.
The important point is that Europeans, in addition to the state pension, also receive contributions, which they have been making throughout their working life.
That is, they receive a pension that exceeds 50% of their earnings, and in some countries (such as Austria, France) they can receive the same pension as the salary at their last place of work.
In addition, European pensioners are immediately given an accumulation deposit of 35 thousand euros. It is a very good bonus, and European pensioners are well-off people. They travel, buy houses on the seashore in other countries, have attendants, stay active in politics and education.
That is, they remain active participants in public life. That is not the story of our pensioners. Even those who came to this forum in Minsk (and these are the most active representatives of the seniors' generation) recognized that we had no rights in this state, no one listened to us.
Even pensioners from Armenia, Georgia and Ukraine were full of energy at the forum, who are making political plans and seeking some programs with the government.
- Has anything changed in the life of pensioners in Armenia after the Velvet Revolution?
- Sure. Representatives of this country were especially active at the forum. They built up a program to improve the situation of pensioners together with the government of Nikol Pashinyan. They believe that in the near future the average pension will be increased from $80 to $200 (given their price level, it bears much more opportunities than in Belarus).
- What do you think about the retirement age increase in Belarus? How legitimate is it?
- The retirement age increase is common for many countries. But the way the Belarusian authorities did it causes resentment. Other countries pursue a gradual increase with an appropriate compensation and an increase in the level of medical and social services.
Here it was with one decree of Lukashenka. Thus, people have been deprived of their legally earned pensions within 1.5-3 years. If calculations are made, it turns out that several thousand dollars a year are taken away from each Belarusian pensioner. People were simply forced to work for free all these years.
In addition, working pensioners face illegal deductions from their salaries. It's also illegal to increase the pension insurance record with one decree.
If earlier it used to be 5 years, which required contributions to the pension fund, now it is 18 years and will be increased up to 25 years. That is, people in Belarus are forced to work almost to death!
More than three thousand people have been trapped by it, when the retirement age is reached and the retirement pension is not available - there are not enough "years" to get it.This is an infringement of the rights of older people in Belarus. When raising the retirement age, no one took into account the interests of pensioners. But this will affect almost all Belarusians. This is actually a violation of property and personal rights of citizens. There is no excuse for that.
I guess one day we will have to return to this issue and carry out a fair, democratic and lawful pension reform.