Interior Ministry Twitter Invites Belarusian Policemen To Work In Bryansk
24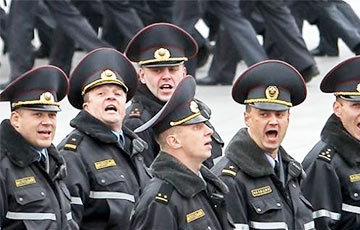 Earlier, Belarusians were recruited to serve in Pskov.
On April 17th (but users have paid attention to it only now), an advertising tweet of the Russian Ministry of Internal Affairs inviting Belarusian police officers... to work in Bryansk region was posted on the Twitter of the Internal Troops of the Ministry of Internal Affairs, nn.by reports.
Belarusians are promised "assistance in arranging their move," "official housing" and "assistance in getting an education."
The contacts for those interested are given.
Users of the social network have already started to react to such a proposal with a rhetorical question of if it is necessary to swear the oath for the second time.
As of 6:45 p.m. Monday, there was no possibility to specify how such an offer had appeared on the official Twitter – the press secretary of the internal troops was not available.
The account has been running by Uladzimir Parkhomtsau since 2015.
Earlier, the Charter97.org website reported that Belarusians were recruited to serve in the Russian army in Pskov. The SMS messages were sent to the Belarusian policemen.