Lawyer: Army Of Disgruntled "Parasites" Is Real Force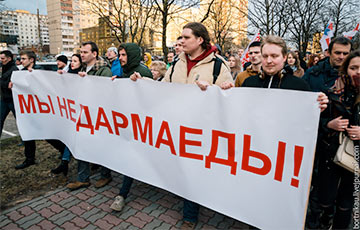 The authorities have spent far more than they have received in the struggle against the "parasites."
Homel human rights defender Leanid Sudalenka has told Radio Racyja why those who disagree with their "parasite" status should seek protection from lawyers or the REP trade union.
– How many people have turned to you?
– There have been six appeals from Homel residents, and all the six were excluded from the base of "parasites" after our intervention.
Initially, there were 500,000 "parasites" in the country, then the list was reduced to 425,000. Such an army of the discontented unemployed is a real force and a danger to the state. It seems that the state has spent much more than it has received in the course of its fight against the "parasites."