Luninets Resident Died In Police Department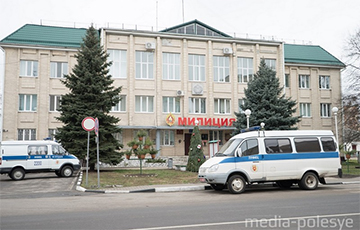 The relatives claim that the man died of beatings.
The readers have informed Medyja-Palesse about the following:
"The deceased was 40 years old, his name is Aliaksandr Bohdan. The relatives of the deceased claim that the policemen have beaten Aliaksandr to death. The forensic medical examination will determine whether it's true or not. The body was taken to Pinsk in order to be examined. An official check-up is being conducted.
As the journalists have found out, the drunk man was sitting on a bench near the post office. Passers-by reported it to the police. He was taken to the department. There, right in the foyer, he got sick. The doctors who arrived on call stated that he had died.
The deputy head of the Luninets district police department, Aliaksandr Yakavets, who was asked for a comment, refused to speak about the incident.
The district department of the Investigative Committee is conducting a check-up upon the case of death. Head of the Regional Investigative Committee Andrei Lukashevich has said the following: the man got sick because of alcohol, "his death is not of a violent nature," there is a record of video surveillance cameras, how he felt sick when he was sitting on the couch in the foyer. The cause of death will be determined by a forensic medical examination.