Another Russian Expelled From Belarus
16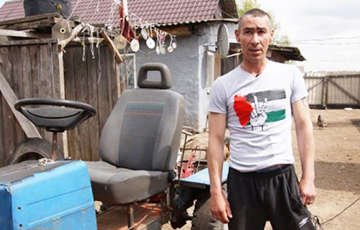 Vladimir Travter has been living in Belarus for 26 years.
The Internal Affairs Department of Homel Regional Executive Committee replied to the complaint of a resident of Buda-Kashaliova district, a Russian citizen, Vladimir Travter. The regional police did not find any grounds to cancel the expulsion decision, Homel Viasna writes.
The Russian has lived in Belarus for 26 years. He has a house, a stable job, a wife, a son and a big household in Buda- Kashaliova district. Vladimir was expelled with a ban on entry to Belarus for five years because of an administrative offence.
The reply signed by Anatol Vasilieu, the Deputy Chairman of the Internal Affairs Department, says that "both the circumstances characterizing the person and the fact that he was warned about the need to comply with the law" were taken into account by the Buda- Kashaliova police officers in their decision.
The police reminded that foreign citizens are obliged to observe the laws of Belarus and "respect its national traditions."
38-year-old Vladimir claims he has nowhere to go in Russia. He has been living in Belarus since 1993. Vladimir married Maria, a Belarusian woman. Their son is 17 years old. Vladimir's old sick mother and his stepfather live in a neighboring village.
Traveters have made repairs to their house, keep pigs and chickens, cultivate 70 hectares of land. Vladimir has been working as a cattle-breeder at a local farm for 17 years, and his wife is a cleaning lady at school.
In February, he was fined and his license was confiscated for talking on the phone while driving.
After that, the Citizenship and Migration Department of the Regional Department of Internal Affairs decided to deport Travter for five years.
Now Vladimir is going to appeal against the expulsion decision in court.