Media: Change Of MTZ Leadership Is About To Take Place
16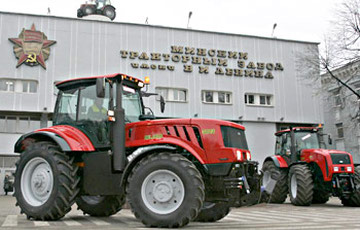 The proposal has been sent to Lukashenka.
The head of the Minsk Tractor Plant may be replaced in the near future. This has been reported to tut.by by three unrelated sources.
"The proposal has been sent to the head of state. He has the last word," – one interlocutor said. Another source is sure that "the decision on the MTZ general director has already been made and even his successor has been appointed. But he refused to give his name. "Today everyone at the plant discussed Fiodar Damatsenka's resignation," – the third source said.
As for the reasons of personnel castling, there was a "set of questions." "Some work has been done at MTZ. But the plant needs fresh ideas. Its capacity is much higher. Plus, we must solve the existing problems," – the source said.
It should be noted that in May 2017, Damatsenka was proposed to the post of the governor of Minsk region. But in the end, another decision was made.
On August 11, 2014, Lukashenka approved the appointment of Fiodar Damatsenka as General Director of Minsk Tractor Plant. The ruler expressed hope that he would take the work at MTZ to a new level, add significantly to the production, quality and sales of products.
Prior to that, Fiodar Damatsenka had been Lukashenka's assistant – chief inspector of Minsk for a year and a half. In 2010, he was appointed chairman of Maladzechna district executive committee. Damatsenka worked at the Belarusian Automobile Plant for 27 years. He made his way from a rank-and-file engineer to the First Deputy General Director for Development – Technical Director.
The MTZ press service reported that they had no information about personnel changes. It was impossible to get a comment from Fiodar Damatsenka during the day. This week, tut.by correspondents interviewed MTZ General Director, and there was no talk of any resignation. He was cheerful and made plans on the further management of the plant.