Protest In Brest: Over 200 People Came To Square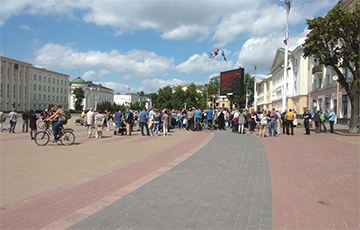 A rally against the battery plant has taken place in the city.
Yesterday the traditional Sunday protest against the battery factory near the city which, according to the 24-hour watch of the activists, has started to work illegally at night and ship the finished product, took place in Brest.
More than 200 people gathered on Lenin Square in the center of Brest for today's action, the correspondent of Charter97.org reports.
Protesters once again stated that the plant "continues to operate in full under the guise of commissioning works.
Activists have been on duty near the battery factory since May 3.
Residents of Brest believe that the company is harmful and threatens their health. The public campaign against the battery factory started in the region in January 2018. During this time, the activists applied to hold 88 rallies, 12 pickets and 16 demonstrations in the city and Brest district. The authorities sanctioned only one rally on 29 April 2018.