Political Prisoner Baranovich Held In Punitive Confinement For Over 90 Days
9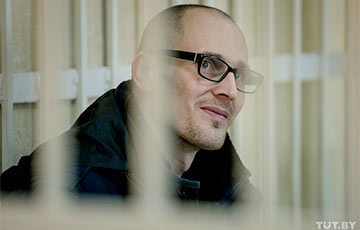 The relatives are worried about the physical and psychological state of Sviataslau Baranovich.
Political prisoner Sviataslau Baranovich has spent more than 90 days in the piunitive confinement in the prison of the town of Zhodzina, where he was transferred on February 17 to serve the remainder of his sentence. This was reported to the human rights activists of "Viasna" HRC by his sister Natallia.
She is worried about her brother's physical and psychological state, since there are very tough conditions in the punishment cell to be there for such a long time. Besides the fact that he is completely isolated from other prisoners, it is forbidden to take his own things there, even books. Under these conditions, it is also impossible to receive letters, money transfers and use money from his account. In the punitive confinement, the bed is thrown off the wall only for the night, and during the day it is attached to the wall. Therefore, at this time he is forced to sit and lie on the floor.
Natallia also notes that the problem with glasses has not been solved yet. Sviataslau has poor eyesight, and if he doesn't wear glasses for a long time, the health situation of his eyes can seriously deteriorate.
Until February 17, Sviataslau, while in the penal colony # 1 of Navapolotsk, stayed in the punishment cell for about 210 days.
On March 15, 2017, when the "Non-Parasites March" took place in Minsk, there was an attempt by police officers in plain clothes to detain some masked participants of the march when they were getting on a trolleybus.
The fight began. Baranovich was detained at the beginning of October and placed in custody in the remand prison #1 in Minsk. He was charged with "using violence against an employee of the internal affairs bodies" (Article 364 of the Criminal Code). On February 15, 2018 the trial in this criminal case began in the Maskouski district court of Minsk.
Prosecutor Serhiyenka requested four years of imprisonment for the activist. On March 12, Baranovich was sentenced to 3 years in prison. He appealed the verdict, but the board of the Minsk City Court dismissed the complaint.
On February 15, 2019 Sviataslau Baranovich was transferred to prison #8 in Zhodzina.
Address for correspondence:
prison #8, Savetskaya Street, 22A, Zhodzina,
Minsk region, 222160
Belarus