Action In Support Of Dzmitry Paliyenka Held In New York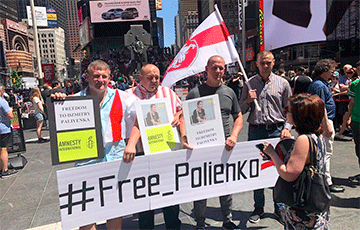 The social activist marks his birthday today.
Civil activist Vadzim Vasilyeu wrote about this on Facebook.
"Free Paliyenka" was the name of the action that the Belarusians of America conducted in New York in support of the prisoner of conscience Dzmitry Paliyenka, who is forced to celebrate his birthday behind bars.
Time Square was selected as a venue for the action. And this is not by chance. Time Square is called the "crossroads of the world" and is considered a symbol of New York," wrote Vadzim Vasilyeu.