Vasil Shlyndzikau: Officials' Brains Are Preserved In Current System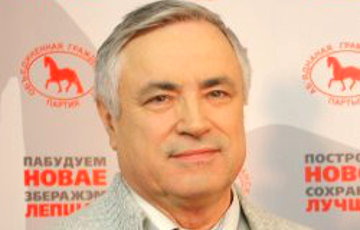 We must change the system.
Vasil Shlyndzikau, former head of the Amkodor concern, agreed with a popular opinion about Prime Minister Siarhei Rumas.
"I see from the economy that there are no results. And I have not seen any actions on the part of Rumas, which could be assessed as progressive," Shlyndzikau said in a comment byto udf.by.
In his opinion, the Prime Minister's lack of initiative should not be explained by his personal qualities.
"No one would show oneself under the existing rigid system. It is necessary to change the system, but if Rumas tries to do it – he will be immediately dismissed. Even if he understands what needs to be changed, although that's still a question," – Shlyndzikau says.
The former head of the Amkodor concern notes that the officials in power have preserved in the existing system and "their brains too."
"People who are trying to change something, offer ways to change the system, can be counted on the fingers of one hand. And Rumas does not belong to this category," – Shlyndzikau says.
In his opinion, the evolution of Rumas as a manager will not go for the better.
"As far as I remember, the reputation of a marketer was earned by Rumas in his youth. But at one time Anfimau was also a marketer. What do we see now in the head of the National Audit Office? There is nothing left in him from the marketer. Genesis defines consciousness. Genesis has defined Anfimau's consciousness and now it defines the one of Rumas. I do not rule out that he will eventually become an official like Anfimau," – Shlyndzikau says.