Babruisk Residents To Lukashenka: One Must Resign In Due Time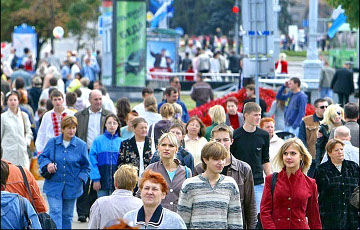 The Belarusians summed up the results of 25 years of the dictator's rule.
In the summer of 1994, the first presidential elections were held in Belarus. Then Aliaksandr Lukashenka won the second round. Those elections were the only ones in the history of modern Belarus that took place in two rounds, Babruisk Kurier writes.
Since then, Lukashenka has been ruling Belarus for 25 years. In 2020, his fifth term expires.
During his campaign, Lukashenka promised to reduce inflation and stop impoverishment, reduce corruption, restore ties with the former Soviet Union (primarily, Russia).
In the following years, his election promises have changed very little – the fight against corruption, reduction of inflation and improvement of living standards are still on the agenda. In 2006, at the 3rd All-Belarusian Assembly, Lukashenka promised that by 2010 the average salary in the country would be USD 500, and by 2015 – USD 1000.
Do the Belarusians feel this growth of welfare? What are the results of Lukashenka's 25-year rule? Journalists asked these questions to passers-by in the streets of Babruisk:
"Lack of results. Everything should be done in time. One should leave in due time."
"No comments. Because I live very well. In quotes."
"Price growth, denomination, prices are growing – wages are not."
"Disgusting, terrible."
"Let's not comment."
"I would like to see changes at the highest level, and then changes will come to the country."
"There are few positive results. We don't need ice palaces," – Babruisk residents replied.