Babich Will Be Promoted Following Results Of His Mission
Alexey Venediktov
3.05.2019, 17:39

1,947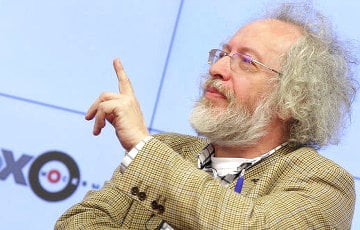 He is supposed to get a good appointment in the presidential administration of the Russian Federation.
The editor-in-chief of Echo of Moscow, Alexey Venediktov, commented on the change of Russian ambassadors in Belarus in the program "Special Opinion". On April 30, Mikhail Babich was removed from office. Dmitry Mezentsev was appointed instead. At the same time, Babich was also dismissed from the post of the special representative of the president of Russia for trade and economic cooperation. Dmitry Mezentsev did not get such an appointment.
Alexey Venediktov called Mezentsev a real politician.
"Here he is a real politician. This is a man who will envelop and tempt rather than threaten. He probably has the same task. As Dmitry says: deep integration processes. Such a euphemism. His task is unification. But the methods are different," – Venediktov said on air.
He stressed that the absence of the special representative's status does not play a role for the new ambassador, since the ambassadors are the special representatives of the president in essence. Alexey Venediktov believes that stylistics is important in the relations between Belarus and Russia. At the same time, Vladimir Putin, appointing Mikhail Babich, did not expect that his activity would take such a form. The journalist said he agreed with the Belarusian Foreign Ministry in assessing the style of the former ambassador.
Venediktov does not believe that Putin's attitude towards Belarus has changed, simply Babich has overdone it. The journalist used the metaphor of the blackjack game: when instead of 21, the player picks up 22. He believes that the option of Putin's transit of power associated with the unification of the two countries has not lost relevance, as well as other options. The editor-in-chief of Echo of Moscow added that everything would become clear in 2024.
Mikhail Babich's mission caused doubts from the very beginning. He did not get an agrement to Ukraine. Venediktov also spoke about the unsuccessful attempt to send Babich as the ambassador to Turkey. He is confident that Mikhail Babich will be promoted at the end of his mission.
"This is not a diplomat. And when he was appointed to Belarus, I said on the radio and to those who appointed him that you send the proconsul to the conquered province. His behavior is like that. In general – both public and non-public. And if that is the goal, then it is clear, this is a military man. And I think, by the way, I'll tell you, separating by a comma, that he will get a good appointment in the presidential administration. I think so," – Venediktov said.