'Clear Signals Concerning Lukashenka Are Sent'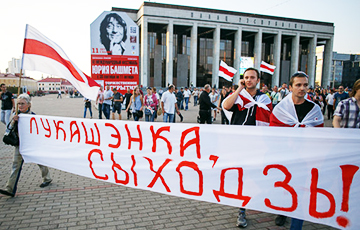 What's the plan in case of another "stroke"?
Hrodna and Barysau hosted meetings with leaders of the Belarusian National Congress Mikalai Statkevich and Jauhen Afnahel.
One of the BNC leaders, coordinator of the European Belarus civil campaign Jauhen Afnahel told Charter97.org about topics and concerns raised at the meetings.
- You repeatedly visit regions of Belarus. Could you tell us about your impressions of meetings in Hrodna and Barysau?
- One of the key points is the certainty of changes. And no matter which ones. It's like the calm before the storm. Rampant greed of officials and demonstrative disrespect for the people have launched irreversible processes, which, it seems to me, no longer depend on the authorities or politicians. People got enough of this Lukashenka's "swamp" stability. There is no strength to tolerate injustice, deception and humiliation on the part of officials. This problem is more acute outside Minsk.
Most of the participants in the meetings both in Hrodna and Barysau were ordinary people, not from opposition organizations. Many people learned about the meetings from the media and the Internet. They raised acute issues, such as poor salaries and pensions, lack of jobs and prospects, extortion and restrictions, and the decree on "parasites". They talked more about the economy rather than politics.
They also criticized our poor presence on social networks, on the Internet in general, and lack of creativity. They said that more attention should be paid to social and economic problems and a response to the authorities' failures had to be more prompt. We will evolve, especially since many participants expressed their readiness to help the Belarusian National Congress in specific areas and have already started working.
- What has changed in the energy sector, in people's moods compared to previous years?
- The energy sector turned out to be the most striking. It would seem that the farther from Minsk, the harder it is to fight for one's rights; there are fewer well-known activists, human rights defenders and independent journalists. But today, regional and district centres will give the capital the upper hand in its quest for changes and readiness to achieve them. After "parasite" protests of 2017, new initiatives, leaders and bloggers appeared all over the country. The authorities have neither means nor strength to fight these urban partisans.
The question "who is to blame" is no longer acute; there is no need to explain anything, no need to convince anyone. The time of talks has passed. It' s time to act. In general, there were not so many questions, and everything is already clear. But at the same time, the meetings lasted twice as long as we had planned. Even after them, we discussed new ideas and proposals, the action plan for upcoming months, parliamentary "elections" and the future of free Belarus. We planned to return to Minsk in the evening, but we returned at 2 a.m.
- How do people assess the result of 25 years of Lukashenka's "activity"? What could you say about the attitude of an ordinary person to the dictator?
- How can a person with higher education and the salary of 500 rubles treat Lukashenka? What can residents of a district centre say who earn $150, or specialists who can't find a job after graduation, only if they are lucky enough with friends? Young people escape from Barysau just to earn something. They leave for Russia, Ukraine, Poland, or at least for Minsk. The situation in Hrodna was a little bit better - the border served as a breadwinner, but since the new year, this loophole has almost closed. Therefore, even our questions about the attitude towards the dictator, his activities often caused bewilderment. You will not ask a normal person about his attitude to a sadist or robber...
One of the participants in the meeting in Hrodna, a lawyer who keeps in touch with many people, said: " Hatred towards Lukashenka and his officials is in the air. It is everywhere - in conversations, intonations, emotions. It seems that it is tangible. Similar words were voiced in Barysau.
- Do people realize the threat to the independence of Belarus posed by Lukashenka? Are Belarusians ready to defend their country?
- It's hard to say for sure. When it comes to survival, one does not always think about geopolitics and the independence of the country. Pro-Russian sentiments are strong in the east. It is stimulated by propaganda and the fact that many people go to work in Moscow and St. Petersburg, with the standard of living and earnings incomparable with a Belarusian "salary". Of course, those who visited the meetings are aware of the threat of loss of independence, but in general, the situation is very alarming. We thoroughly discussed the topic. Most people agree that the only real chance to preserve the country is to dismiss the person who has driven the country into such a state.
- The question of how to defeat Lukashenka has probably become the most popular. Were there any new, fresh ideas at those meetings?
- Everyone believes that the fate of the dictator will be decided on the streets and squares. Many ideas and proposals were voiced - starting from ideas how to attract local officials, many of whom are already sending clear signals about their readiness to cooperate with the opposition and ending with the organization of a strike at a particular factory or educational establishment.
We discussed the parliamentary campaign: how to use opportunities it offers, what can be done during the campaign period, how to involve as many people as possible in its activities.
They discussed problems and how to solve them. Yes, everyone agrees that the vast majority of Belarusians hate Lukashenka. But this is not enough. Not all of them fully trust the opposition, although many listen to it. Whom will people follow in case of spontaneous riots? What can we do to help independent media, how can we spread their news? What is the plan of action in case of another stroke of Lukashenka, another force majeure? What experience of the latest presidential elections in Ukraine, a peaceful revolution in Armenia can be used in our country?
There were both new ideas proposed and people who can and want to implement them. This is also a major outcome of the meetings.
- If open and fair elections were held today, what would be the result?
- The 30th anniversary of the first relatively free elections has been recently celebrated in Poland. We all know how they ended. The same will happen on any free elections in Belarus: the opposition will win. Any politician, who accepts the slogan "Lukashenka should leave", will receive people's support.
The authorities are well aware of this, so they do not even stand a thought of fair elections. Lukashenka is afraid of Statkevich, while Lukashenka's "deputies" are afraid of independent candidates, bloggers and regional leaders. Fair elections will result in a shameful defeat of the dictator and his accomplices.