Yury Karayeu Becomes Interior Ministry Head
142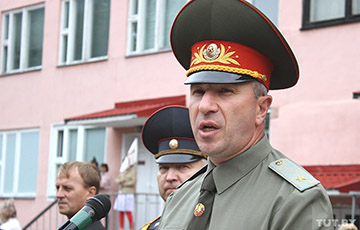 The new Interior Minister comes from North Ossetia.
Yury Karayeu headed the Ministry of Internal Affairs. Prior to that, he was Deputy Minister of Internal Affairs – Commander of the Internal Troops.
Zviazda writes about it.
Let us remind that Interior Minister Ihar Shunevich, who headed the ministry for seven years, resigned the day before.
The new interior minister is from North Ossetia. Yury Karayeu graduated from the Saratov higher military command red banner school named after F.E. Dzerzhinsky. In 1987, he got a placement in Belarus. First, he served in Mahiliou, six months later he was transferred to the Minsk operational regiment of the USSR Ministry of Internal Affairs, known today as the special forces brigade. He participated in business trips to the Caucasus: Yerevan, Baku, Stepanakert, Nagorno-Karabakh, Agdam.
Karayeu has extensive experience in managing various special forces. He was the commander of the police brigade in Homel, commanded a police battalion in Babruisk, was a Combatant in the army unit 3214 by Zmitser Paulichenka. In October 2008, Karayeu replaced the scandalously famous Paulichenka as the commander of the 3rd separate Red Banner Special Forces Brigade of the Ministry of Internal Affairs of Belarus. Before taking up this position, Karayeu had to command the capital's riot police forces for about two months. In 2009, he took the post of First Deputy Head of Operational and Combat Training of the Interior Ministry troops.