Belarusian Pen-Center Demands To Stop Persecution Of Artist Ales Pushkin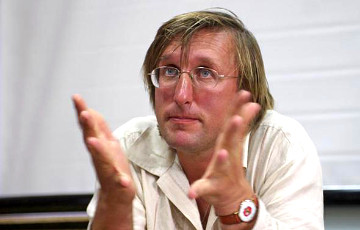 PEN regards the detention of Pushkin as another attack on the freedom of speech in Belarus.
Belarusian PEN Center requires to stop the persecution of artist Ales Pushkin, who was detained for a performance in defense of the Belarusian language in Krupki (Minsk region), Radio Racyja reports with a reference to BelaPAN.
The well-known Belarusian artist-performer was arrested with the use of physical force by police officers on June 6 in Krupki. According to PEN Center, on that day, Pushkin went to the Euroopt store in the center of Krupki with posters "Stop Russian Aggression in Europe", "Russia Means War!", Putin's portrait, and the poster "Belarus to NATO ". During the detention of the artist his works-posters were seized by the police.
"The place of performance is chosen not by chance - on May 8, there was a conflict between Ales Pushkin and the guards at the store - they aggressively responded to the Belarusian language and attempted to forcibly remove the artist from the trading floor," the statement says.
The Belarusian PEN Center sees another detention Ales Pushkin as an attack on freedom of speech in Belarus and calls for the immediate release of the artist.
The PEN Center recalls that Pushkin is an artist who for 30 years has been engaged in the protection of the Belarusian language, and performed actions for the freedom of expression in Belarus.
On March 25, 1989 Ales Pushkin gave the first performance in defense of the Belarusian language with other students of Theater and Art Institute. Pushkin was sentenced to 2 years of probation then.
In 1999, Ales Pushkin was sentenced to 2 years of imprisonment with the suspension of the sentence for the action-performance "Thanks to the president." On July 21, 1999, when Aliaksandr Lukashenka's presidency term expired, Pushkin rolled up to the presidential residence a red wheelbarrow of manure, in which lay the Belarusian rubles and the portrait of Lukashenka.
On December 10, 2000 on the International Day of Human Rights Ales Pushkin, together with the Human Rights Center "Viasna" organized the exhibition of uncensored art "Not Allowed by Censorship."
In 2012, during a 10-day arrest in Smarhon he created a series of paintings "The artist behind bars."
The PEN Center notes that Ales Pushkin has repeatedly experienced administrative arrest for artistic events, several times the artist was beaten by police officers during the arrest.