Guitarist Of Lyapis Trubetskoy Rock Band In Coma After Attack By Unknown
27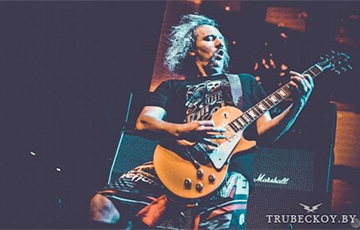 The condition of the musician is estimated as serious.
The never-changing guitarist of the Lyapis Trubetskoy and the Trubetskoy bands Ruslan Uladyka is in a coma. He was taken to intensive care in the evening of June 6. According to producer of Lyapis Trubetskoy Yauhen Kalmykou, that evening Ruslan went to a bar in Soltys Street for literally two minutes. An hour later, he was found unconscious. True, it is not clear who did this, informs Euroradio.
"In the evening of June 6, Ruslan left his sister's place. Next to the house, which is located in Drazhnya, he popped into a bar. It was 10:28 pm. At 10:30 pm he left there, having drunk a glass in the bar. There is a video of his stay in the bar. The video shows how a man, who sat at the next table with a company of three friends, approaches Ruslan.
Ruslan nodded to him and went out. At 23:30 Ruslan was taken to intensive care. It remains unclear who and where found him. The musician's sister does not give this information to the investigation. Ruslan is on artificial lungs ventilation. He has had an urgent surgery," says Kalmykou.
According to the guitarist's sister, Ruslan had a wallet with him, with money, bank cards, a mobile phone. The musician was delivered to the intensive care without personal belongings.
Head of the press-center of the Investigatory Committee Siarhei Kabakovich told reporters that a criminal case had been opened on the fact that Ruslan Uladyka had received bodily injuries. At the moment, the condition of the musician is assessed as serious. All the circumstances of the incident are being investigated. It has not been specified under which article a criminal case is initiated.