"Basta": Would You Like Some Protests In Mahiliou As Well?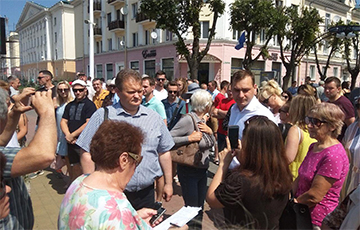 Lukashenka's assistant has "advised" the residents to go to work for $150.
Lukashenka's assistant didn't manage to answer the questions that concern Mahiliou citizens.
Instead, Mikhail Rusy advised those who came to his office to "go to work" for $150-200 and not to disturb the water by talking about Omsk Karbon. A reader of the Basta telegram-channel from Mahiliou writes:
- Rusy did not even listen to the people who came to complain about the lack of decent work. This is a problem in Mahiliou, just as everywhere else: vacancies of 350-400 rubles are normal. Lukashenka's inspector answered all the questions: "Go to work and do not complain," "they pay little - just work more." He referred to the fact that the minimum wage in Belarus is Br330, so it's logical that employers offer Br350-400. A woman from Bialynichy came, so he told her straight forward - "go to work."
About Omsk Karbon, it' s sunshine and rainbows, not an answer: "It is not your concern, it's a government issue. According to him, the environmentalists, who talk about violations, lie or are incompetent. Some of the people who wanted to talk about the plant were simply not allowed to the reception. Rusy probably did not know that in Brest, for example, a similar "government" issue had been easily resolved. Do they also want protests in Mahiliou? Don't they get it in a different way?
Download and install Telegram messenger on your smartphone or PC, subscribe (click the "Join" button) for the channel "Basta" and create a history of free Belarus.