Oreshkin: Russia, Belarus Agreed On About 90% Of Program Of 'Intergration' Of Two States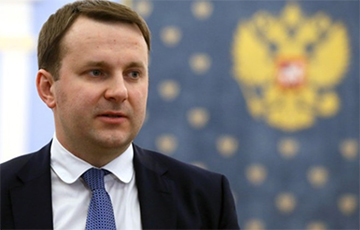 The Russian and Belarusian prime ministers will discuss this program on June 21.
Russia and Belarus agreed on about 90% of the program for in-depth "integration" of the two states, further discussion will continue at the level of prime ministers, whose meeting is scheduled for June 21 in Minsk. This was announced on Saturday by the Minister of Economic Development Maxim Oreshkin to the journalists after a meeting with the Minister of Economy of Belarus Dzmitry Kruty in Moscow, reports TASS.
"Three weeks ago, when the Prime Minister of Belarus [Siarhei Rumas] came, in his opening remarks to discussions with [the head of the Russian government] Dmitry Anatolyevich [Medvedev] he called the figure of 70%. I think that now we can say that we have agreed upon 90% of the document. Yes, there are more details on the terms, further there will be a deeper study of those elements that exist, but we are gradually moving to the 100% mark. I think that the conversation that will take place between the prime ministers next week,on Friday, will become another serious step forward, "said Oreshkin.
The Russian minister stressed that the main task is to work out the "integration" roadmap.
"We ... will perform a very tough work for the whole upcoming week. Our task now is to prepare the meeting of prime ministers. I will fly to Minsk a little earlier than Dmitry Anatolyevich [Medvedev], we will gather there again before their meeting, and rummage through everything. We will have two documents: a roadmap of actions and a conceptual document that will describe the principles on which the movement will take place," he explained.
According to the minister, the key issues of integration are regulation in the industrial sphere, including the fuel and energy sector, and in agriculture. At the same time, Oreshkin indicated that the terms [according to the plan of action] "can only be talked about after their coordination at the level of the heads of government". "Now we can say that deadlines are tight, we are not talking about decades," added the head of the Russian Ministry of Economic Development.
Earlier, Kruty, following the talks with the Russian minister, said that the updated program of deepening "integration" within the framework of the "union state" of Russia and Belarus, which is planned to be presented to the heads of government of the two countries, will be calculated for the period up to 2022-2023. In December 2018, the presidents of the Russian Federation and Belarus decided to establish an intergovernmental working group on the development of integration. Its Russian part was headed by Maxim Oreshkin, the Belarusian part - by Dzmitry Kruty.