Activists Achieved Security Status For Jewish Cemetery In Mahiliou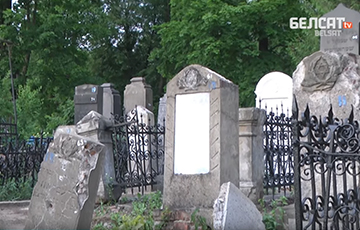 A precedent has been set for the entire country.
The Jewish community of Mahiliou has achieved protection status for ancient cemeteries. A precedent had been set for the entire country. Cemeteries of the 19-20th century were threatened with complete destruction, but now both activists and the state monitor their condition, Belsat reports.
Chairman of the Mahiliou Jewish Community Aliaksei Kaplan guides journalists through the cemeteries.
"Hands folded in such a way indicate that the descendants of these people were kohans, priests. They had corresponding surnames - Kats, Koen, Kaplan."
Today, it is impossible to find relatives of those buried in the Jewish cemetery in Mahiliou in the 19th-20th centuries. All the Jewish population of the city of that time was destroyed or escaped from destruction. And according to the new version of the Law on burial, since 2015, abandoned cemeteries can be demolished.
"This was aggravated by so called cleaning of the cemetery that the enterprises responsible for the cemetery had carried out, a very large number of gravestones had been destroyed by the cut down trees, everything was littered," - Aliaksei Kaplan, the chairman of the Mahiliou Jewish Community, explains.
The Mahiliou Jewish community asked the authorities to grant the cemeteries security status, and at the same time it organized several clean-ups with the participation of representatives of different faiths and nationalities.