Political Analyst: Babich Will Press Lukashenka In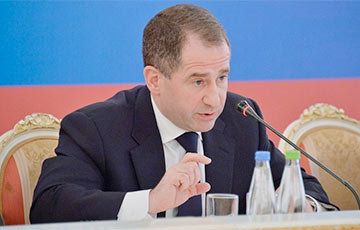 The ex-ambassador has been appointed at an "integration" position.
Former Russian Ambassador to our country Mikhail Babich has received a new position. He became Deputy Minister of Economic Development of Russia. Already the twelfth. Belsat figured out what Babich's new duties are, and how far he is from Belarus now.
The new position somehow concerns Belarus, again. The Minister of Economic Development of Russia has a new deputy. Dmitry Medvedev appointed Mikhail Babich, a former ambassador to Belarus, known for not exactly most friendly relations with Lukashenka, to this position.
Political analyst Andrei Suzdaltsev (Moscow) notes that this particular ministry deals with the integration format of Belarus and Russia:
"This is such a headquarters where they work out decisions regarding integrations - Eurasian and Russian-Belarusian ones. Minister Maxim Oreshkin heads an interstate commission for the Russian-Belarusian integration together with a colleague from Minsk, Mr. Krutykh. "
The information that Babich will be engaged in integration topics has been confirmed also by the official representative of the Kremlin. Dmitry Peskov, the spokesman for the Russian president, said:
"We know that Babich has a high level of expertise in this area, which he certainly can use to speed up many integration processes."
According to political analysts, it is Babich who will implement what the highest state council of the so-called "union state" will elaborate.
"Babich's appointment as a deputy minister at such a ministry indicates that Russia's priority issues, which Babich understands very well, will be resolved and pressed in," explains political analyst Volha Kharlamava.
This is a question of compensation for the poor quality oil, and the continuation of the program of military-technical cooperation.
Volha Kharlamava, political analyst:
"And the third thing, that interests them and seems likely to be pressed in, is getting a controlling stake of at least one of the refineries - either Naftan, or Mazyr."
The governments of the two countries should prepare a roadmap for the development of integration by June 21, when the meeting of the prime ministers of Belarus and Russia should take place.