Blogger Pavel Spiryn Makes Documentary Movie About 'Drug' Article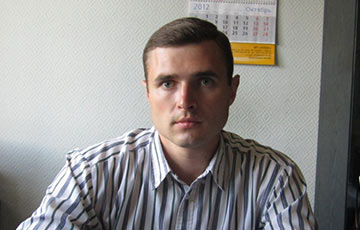 According to a Minsk dweller, he received information from a drug control major.
Minsk blogger Pavel Spiryn recently published a documentary on the problem of drug trafficking and cruel punishments under Article 328. He claims that the central apparatus of the Ministry of Internal Affairs is related to the trade of drugs in large quantities. Belsat.eu asked how the blogger came to this conclusion, whether he is not afraid of the persecution and what topics he plans to touch on in the following videos.
Spiryn gained fame after his film "Stepfather" about Aliaksandr Lukashenka, where he criticized him and those close to him. "Stepfather" was released at the end of 2017 and scored almost 900 thousand views on YouTube.
Well-known Belarusian documentary director Yury Khashchavatski consulted Spiryn. Pavel himself not only did not hide the authorship, but also sent the link to the video to the officials himself. Then the police began to check the presence of signs of insulting the dictator in the movie; the blogger was threatened with up to two years in prison. As a result, the criminal case was not initiated.
This year in March, Spiryn was again summoned to the police after another video about the work of the "parasites" commissions. As part of the check, the blogger's equipment was seized, but no case for "insult" was started - computers and flash drives were returned to the owner.
On June 14, Pavel posted on his channel a new film called "Edge 2019". According to the blogger, during this work he talked with representatives of the Mothers-328 movement during the month, studied "narcotic" legislation, relevant government regulations and publications in the media. He also says that he received information from the current drug control officer of the Ministry of Internal Affairs, who "had a couple of years left until retirement". In the film itself, the author only once refers to his anonymous source - the security official does not appear in the video sequence, his voice does not sound even behind the scenes.
- There is such a tendency: I notice that the police are beginning to cooperate with bloggers, give them certain information - this happens, for example, with NEXTA. I am glad that they began to pay attention to such bloggers like me - documentary. But if I called the name of the source, it would be instantly thrown out of the bodies, you can not let a person down. I can only say, this is the major of drug control. He contacted me, described how the situation looks like, "says Pavel.
- But you quite categorically blame the Ministry of Internal Affairs for involvement in drug trafficking, in connection with this you name the former Minister Shunevich. Aren't you afraid of prosecution for this, a lawsuit for slander?
- And what is slander? I'm talking about [the former. - Belsat.eu] subordinates of Shunevich. We do remember the "case of 17", where an employee of the Ministry of Internal Affairs was implicated. It is a fact. In addition, I am a lawyer by education and I understand that the composition of such crimes as defamation or insult are specific. That is, I must specifically call the name and position of the person who oversees the drug trade. Any attempt at prosecution will only confirm that I am right.
- You also accuse Tekhnobank of servicing drug dealers' electronic wallets …
- I am not accusing anyone, but stating a fact. Tekhnobank is suspected that the money from the drug trade goes to the e-wallets issued by them, a lot was said about this earlier in the media.
"Large distributors live in peace"
- Why are you generally interested in the topic 328, why do you care about it?
- I began to be interested in this topic about two years ago, compared the facts that exist on drug trafficking and came to the conclusion that absolutely wrong people are behind bars. That is, people are detained for long periods of time, while they deserve maximum a suspended sentence or some 2-3 years, but not 10!
All major distributors live in peace in Belarus, and they jail only young people, teenagers, and the amount of punishment does not correspond to the crime committed.
- Often, investigators ''stretch'' the first part of the Article 328 [illegal possession of narcotic substances without the purpose of sale - Belsat.eu] to the third or even fourth parts [sales in an organized group - Belsat.eu]. In fact, children are made drug barons.
- But why in your documentary there are no interviews with Mothers-328, some exclusive documents?
- Such a concept. You see, I decided to make a film in a form that is accessible to ordinary Belarusians. So that anyone who does not have the ability to in-depth analysis, investigation, could look and understand everything. I wanted to show how, for one gram of substance, Shunevich's office presented a person almost as a drug baron.
Naturally, I have all the documents confirming the facts voiced in the film. Just if I included them in the film, it would immediately become less understandable to a wide audience, ordinary people, and look worse.
- Why did you start making documentaries and what feedback have you already received on the "Edge 2019"?
- It brings me pleasure, I see that I am doing something useful for society. It feels so good. I have another official job - the head of a housing and construction consumer cooperative, but it is more of a necessity. There are many reviews of the film. I feel grateful: people called, thanked, even from abroad. Mothers-328 were grateful, they also wrote and called.
How, in the blogger's opinion, should Article 328 be changed?
- By the way, where does the name "Edge 2019" come from?
- By this I mean a certain border, a line. When state bodies cross this border - and they have almost crossed it - irreversible processes can begin, which usually end up not being the best for people in high positions.
- What effect from this film do you expect?
- I would like to see the narcotic legislation change and additions to Article 328 made, which will specify the law, so that random people do not fall into prison for such a long time.
If they give 14 years, it is necessary that this really be a hardened criminal who has disfigured many lives and earned a lot of money on this. And not just stumbled students. Of course, if this teenager does not change his mind after the first prison term, the punishment should be harsh, but not for the first time.
Now, in Belarus, about 17 thousand people were convicted over Article 328, a certain part of them has not yet come of age. The relatives of those serving sentences united in the movement Mothers-328. They seek mitigation of punishment under this article and amnesty for minors. The women declared a hunger strike, demanding an audience with the dictator, and numerous meetings were held with officials.