Father Vikentsi: Expressed My Thoughts On Political Situation In Country Without Minsk City Executive Committee's Permission
11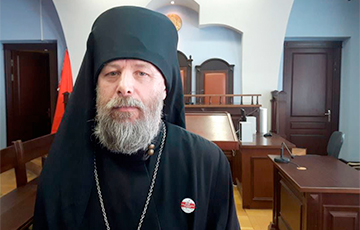 How the authorities persecute the BAOC priest.
Priest of the Belarusian Autocephalous Orthodox Church Father Vikentsi (Viktar Kavalkou) is fined Br382.5 (15 base units). This decision was taken by the Pershamaiski district court of Minsk. He was fined for participation in the Charnobylski Shliakh, as the law enforcers decided that his actions were in violation of Article 23.34 of the Code of Administrative Infringements of the Republic of Belarus - "picket," Radio Racyja reports.
"I expressed my thoughts on the political situation in our country without the permission of Minsk City Executive Committee. I was giving an interview to Belsat right at that moment," – the priest told reporters.
"Father Vikentsi (Viktar Kavalkou) was detained three times in 2019 alone, and three times the protocols were drawn against him. In one of these administrative cases, the priest was forcibly brought for forensic psychiatric examination," - the Human Rights Center Viasna reports.